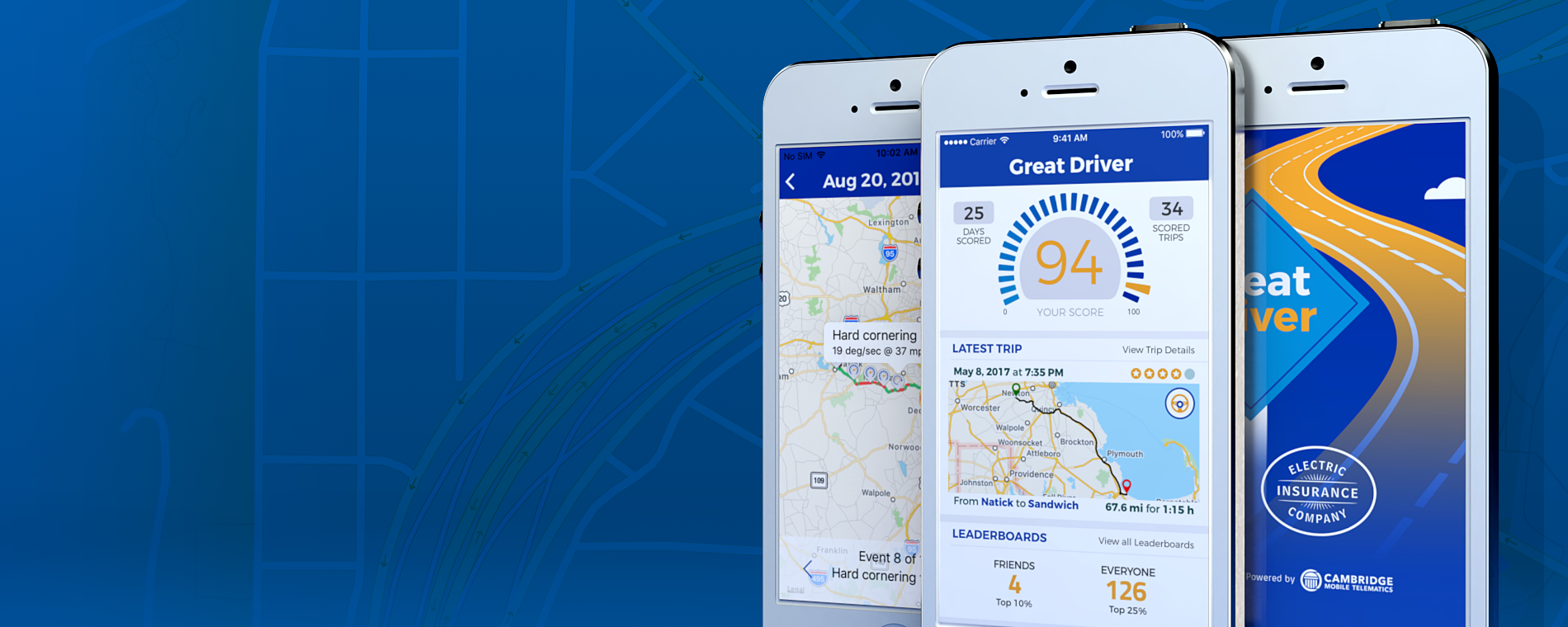 ELECTRIC INSURANCE
User Guide
Get started, get driving,
and get saving with the Great DriverTM smartphone app!
Getting  Started
How do I download and activate Great Driver to earn my enrollment discount?
Electric Insurance will email activation instructions to you shortly after you purchase a Great Driver program policy. If you are already a customer, we will send you the email once we have added Great Driver to your policy.
What do I do next?
Getting started is easy!
Forward your activation email to all the participating drivers on your policy.


Each driver must follow the directions below to add the Great Driver app to their smartphone.


Activation codes are specific to each driver - drivers should use the code next to their name.


Remember – participating drivers on your policy must download the app within 30 days of your policy effective date and use it regularly for 100 days in order to keep the discount.
How to Download and Register
Use these iTunes® App Store® or Google Play™ store links to download the Great Driver app.
Tap the "register" button on the first screen.


Enter your personal email, a username, and your phone number on the "Welcome" screen.


Tap the "Continue" button.


Enter your personal activation code (listed below).


Tap the "Continue" button. (Do not tap "Start a Trial" or you will not be credited for your drives.)


Accept the Terms & Conditions and tap the "Continue" button.


Enable location access and tap the "Continue" button.
Start driving and start saving! Once you've logged your first trip, you'll receive a score after a few hours. We're glad you've joined us! We wish you safe driving.
Does every driver on a policy use the same email address to activate the app?
No. All drivers must use their unique email address to use the app.
How do I find the Great Driver app in the iTunes App Store or in Google Play?
Open the Great Driver registration email on your smartphone. Use the iTunes (if you have an Apple® iPhone®) or Google Play (if your phone uses an AndroidTM operating system) button links to go to the app download page and download the app.
For Customers Who Used Great Driver Before
No activation code is needed!
If you have used the Great Driver app in the past but deleted it from your phone or have a new phone, here's how to reinstall it.
Simply download the Great Driver app from the iTunes® App Store® or Google PlayTM store to your smartphone.
Log in via email.

Enter your email address.
Enter a user name.
Enter your mobile number.

Tap "Returning user? Click here" under the "Continue" button.
Great Driver will send a PIN to your email address. Enter your PIN code.
Follow the onscreen instructions to finish setting up Great Driver.
You're registered! Congrats! Do these two things first.
Enable location access on the "Where to?" screen.
Allow Great Driver to access your location. This is required for the app to accurately map your routes and log your drives. Great Driver cannot work if Location Services are not enabled, so drivers with a Great Driver auto policy would forfeit the enrollment, and potentially the Performance Phase discounts.
Allow notifications on the "Notifications" screen.
You must enable notifications to be alerted when your score is ready or when a friend or family member invites you to participate on a leaderboard for a little friendly competition, or if you'd like to keep track of your teen driver's progress. Select the notification type that best suits you.
Optimizing your Great Driver experience

Tap the three-line menu icon on the bottom of the home screen to open the "More" screen.

Let Great Driver know when you're a passenger, not a driver.

  Select "Settings."
Use less of your data plan. Turn on "Upload trip data using Wi-Fi only."
Get a message on your screen when your score has been calculated. Turn on "Notify me when results are available."
Be notified when you get a Leaderboard invitation. Turn on "Notify me about friend requests."
Tp the steering wheel icon in the "LATEST TRIP" box.
Tap the icon that best represents how you were traveling on the latest trip on the "Choose one" screen.
How to read your home screen
DAYS SCORED. This count-up timer tracks how many days you have used Great Driver. Self-Challenge participants may use the app for 60 days. Drivers who have an auto policy in the Great Driver program must activate the app within 30 days to earn the Enrollment Discount. They must drive for 100 days to be eligible for the Performance Discount.
SCORED TRIPS. The indicator shows how many trips you have taken using Great Driver. It will not count any trips where you indicated you were a passenger.
TRENDS. Your overall score is based on the number of miles you've driven, the types of roads you used, how smoothly you drove (acceleration, braking and cornering) and the time of day you drove.
LATEST TRIP. Tap the map to see details about your latest trip. Tap the steering wheel icon on the map to change your status from "driver" to "passenger" if you weren't the driver on the trip.
LEADERBOARDS. Invite friends and family to download Great Driver for a little friendly competition and see how your score compares to theirs. Tap for details.
LATEST ACHIEVEMENTS. See how many driving merit badges you have earned.
MENU BAR. Tap a symbol to go to other screens
How to read your trip screens
Your most recent trip's details are shown in the "LATEST SCORED TRIP" box, which is just underneath the "TRENDS" section.
Your trip route is shown outlined on the road you drove.
The stars indicate your trip's overall score on a scale of one to five.
Tap on the map to get information about how you did on each of the following three score dimensions:

Where you drive;
How you drive (based on acceleration, braking and cornering); and
When you drive.

Great Driver will note incidents of harsh acceleration, abrupt braking, and unstable corning with symbols on your trip route. Tap the symbol for detailed information.
Non-Scored Additional Information
Gray sections of your trip route indicate that the app was not recording at the time, but used data to estimate your route. The grey section will not be used to determine your trip's score.
Red sections of your trip route indicate speeding.
Blue sections of your trip route indicate cell phone use.
Find your individual trip maps
Tap the trip marker icon from the bottom menu to see map summaries of all your trips.
Tap on the individual map for details about that trip.
Find your overall score and related trends.
Tap on the speedometer/score icon at the top of the home screen. The "Trends" screen will show your overall score trend and your sub-scores for each of the four scoring factors.
MILES: How much you drive (your aggregate mileage)
ROADS: Where you drive
SMOOTHNESS: How you drive (acceleration, braking and cornering measures)
TIME OF DAY: When you drive
Invite other people to your Leaderboard
Use one of three easy ways to invite friends and family to your Leaderboard for a little friendly competition.
Tap on the trophy icon to open your Leaderboard. Use the "Invite Friends" feature at the bottom of the screen to invite people from your phone's list of contacts.
Tap the small icon on the top of your Leaderboard to use the "Add Friends" feature to invite other Great Driver users to your Leaderboard.
Tap the three-line icon on the bottom of the home screen to go to the "More" menu. Tap "Invite Friends" to send invitations using your phone's contact list. The email text is all set to use – just hit "Send!"
Find your Great Driver rank
The Leaderboard shows your rank in relation to people you invited to participate on your Leaderboard. Tap each name for details.
Chart your progress
Achievement badges will reflect your progress in four areas:
The number of drives you have made that are rated four stars or higher;
The number of drives you have made without using your cell phone while driving;
The number of four-star or higher driver scores you have; and
The number of drives you have made during the safest times of the day.
Q&A
Q: If I am in an area without GPS service, will the Great Driver app record my data and send it later?
A: No. GPS is necessary for the app to track movement.
Q: When can I expect to get my first score?
A: Your first score will be available within a few days of your first drive. Thereafter, the scores are usually calculated about 15 minutes after you finish your trip. You can ensure faster processing time and use less of your data plan by enabling "Upload trip data using Wi-Fi only" in the "PREFERENCES" section.
Q: How long does it take to calculate a trip's score?
A: Connecting to Wi-Fi to upload your data produces the fastest results – about 15 minutes.
Q: I got fewer than five stars for "How you drive," but the map doesn't show any acceleration, braking or cornering incidents. What happened?
A: The "How you drive" score is an aggregate of your entire trip. While you may not have had one specific event that triggered an incident tag, you may have encountered travel conditions that contributed to a higher risk of an accident.
Q: How can I improve my score?
Limit harsh braking, abrupt acceleration, or unstable cornering. Great Driver will not lower your score based on incidents, but frequent occurrences will affect your score. Review your trip map after each trip to see whether Great Driver has tagged any such incidents. You may find that you do some things unconsciously and can adapt your behavior – and raise your score – once you are aware of them.
If your environment allows, use highways for most of your drives.
If possible, postpone unnecessary trips if it is raining or snowing, or right after a major storm.
Check the "Driving Tips" section on the "More" menu. You'll find both general tips and tips related to your driving patterns.
Q: Will my score be affected if I use my phone while I am driving?
A: No, Great Driver does not reduce your score based on cell phone use. Please note, however, that Electric Insurance does not encourage distracted driving.
Q: Which time frames does Great Driver consider to be optimal for driving?
A: It won't surprise you to learn that there is a high rate of accidents during prime commuting hours, such as 8:00 to 9:00 a.m. and 4:00 to 6:00 p.m. in most areas. Drives you make during these hours will usually receive lower "when you drive" scores to reflect the higher-risk environment. Many people run errands or go out to lunch from noon to 1:00 p.m. during weekdays, so accident rates are higher at that time than they are later in the afternoon.
Drives you make during this time will receive lower "when you drive" scores too. Finally, late-night driving on the weekends from midnight to 5:00 a.m. will receive a low score to reflect the higher incidence of accidents related to driving in the dark and other drivers who may be drowsy, intoxicated, etc. 
Q: Do I get a higher score for driving on streets or on highways?
A: While it may seem that sticking to main and secondary roads is a safer way to commute, statistics show otherwise. Road maintenance issues, stop signs, red lights, pedestrians, unleashed dogs in the street, schools, and other factors all contribute to a higher incidence of accidents on streets vs. highways.
Q: Why is driving in a rainstorm or snowstorm scored lower than driving in fair weather?
A: Decreased visibility, slick roads, congested traffic, and high winds are major contributors to auto accidents. The lower score reflects the higher possibility of being in an accident.
Q: What average mileage amount produces good scores?
A: The average individual drives about 13,000 miles each year. Amounts that are significantly lower or higher would raise or reduce your score commensurately.
Q: Can I view someone else's drives on my own phone?
A: A little friendly competition or parental supervision is a great thing! When you invite another person on your policy or add a friend to your Leaderboard, you'll be able to see their overall scores and the driver achievement badges they've won.
Q: I plan to purchase a Great Driver auto policy once I finish the Self-Challenge. What happens to my challenge data?
A: We're glad you plan to join us! Once you have a policy, you start again with a clean state. Your challenge score and data will not transfer to the new 100-day Great Driver performance phase.
Q: Do I have to download Great Driver again when I purchase a policy?
A: No, if you purchase a Great Driver auto policy, the app will be live again on your phone within 24 hours of when your new policy is bound.
Q: How do I transfer my Great Driver driving data if I get a new phone?
A: Once you download the app to your new phone, either through the iTunes App or Google Play app stores, your data should transfer to your new phone automatically when you sign in to the app using your email address. Log in by email, then tap "Returning user? Click here." to continue.
QUESTIONS? CONTACT US
Contact Electric Insurance Company anytime at [email protected] or at 855.227.8130, Monday through Friday, from 8:00 a.m. to 8:00 p.m. ET.