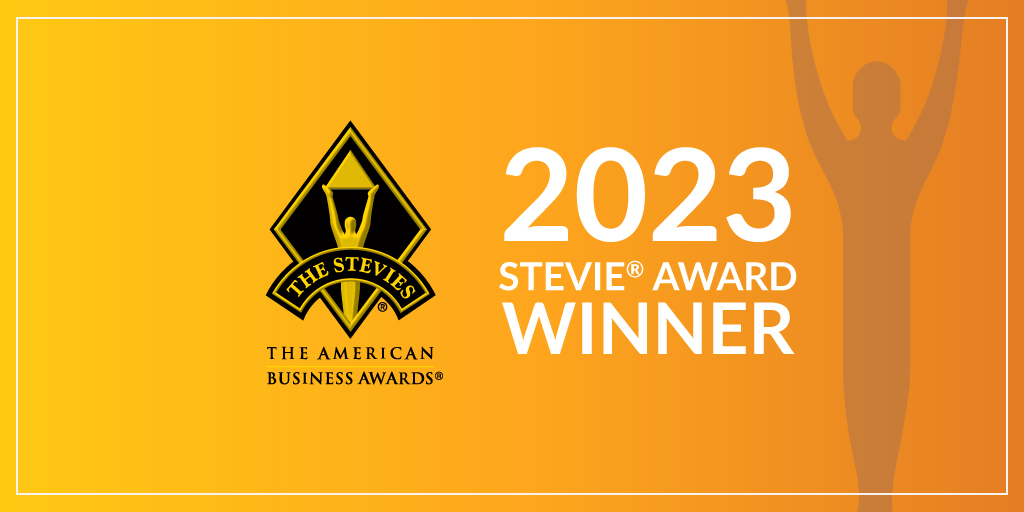 Customer Service Department of the Year: Claims Operations
Beverly, MA — May 10, 2023 — At a ceremony on April 26, 2023, for the fifth consecutive year, Electric Insurance Company® was named a winner in the American Business Awards® competition. The company was awarded the rare distinction of receiving two Gold Stevies® ― one for Customer Service Department of the Year and the other for Customer Service Team of the Year.
Nicknamed the "Stevies" for the Greek word meaning "crowned," the American Business Awards are the U.S.'s premier business awards program. More than 3,700 nominations from organizations of all sizes and in virtually every industry were evaluated by an international team of more than 230 judges.
Customer Service Department of the Year 
Hurricane Ian's historic destruction, inflation, and climate change called for out-of-the-box thinking, determination, and ingenuity. Our practice of post-catastrophe well-being checks and in-person claim assistance set us apart once again. Determined to keep our service promise in Hurricane Ian's wake, Kyle Appert, senior technical homeowner claim specialist, dug in and used ingenuity.
Once on location, he found rental cars were unavailable. So, Kyle did what few other insurance companies' adjusters thought to do: He rented a bicycle.


Along with his low-tech transportation, he carried a very high-tech tool. Knowing storm debris likely made some properties inaccessible, Kyle, a licensed drone pilot, brought a drone to inspect damaged properties.


He uploaded his findings daily, as Wi-Fi availability allowed, so the payment process could begin ASAP.
Because of Kyle's determination, we were able to issue most payments within 24 hours of receiving his findings. Customers were thrilled:
"Most people in my neighborhood still have not been visited by the adjustor. I already have a settlement letter!" – I.L., Cape Coral, FL
"This is why I do it," Kyle says. "It feels great to keep a promise in extreme circumstances and come through when people really need us."
Easing Customers' Financial Pressures
Fifty-five percent of U.S. residents claim financial hardship caused by inflation, with 13% indicating severe familial hardship. Clearly, customers suffering a loss need their claims paid quickly. So, we launched the option for payments to be sent directly to customers' bank, PayPal®, or Venmo® accounts. The service has been enthusiastically received — especially in disaster areas without postal or local banking services —– with 53% of claimants electing to receive digital payments.
Judges' Comments
"The efforts exerted to provide an amazing customer experience show an amazing commitment to customer success and the ethics of this organization."


"Excellent work and amazing outcomes."


"The Claims Operations team is an excellent example of how an effective customer service department helps increase client satisfaction and retention."


"You had me at, 'He rented a bicycle.' Totally hooked with 'Kyle, a licensed drone pilot, brought with him a drone to conduct remote inspections of damaged properties.'"
Our boots-on-the-ground approach after Hurricane Ian differed significantly from most companies'. As a result, 97% of customers' claims were settled in 2022 — significantly better than the industry's 62% as of February 2023. Affected customers had immediate access to their funds once they were issued — even if civil and physical infrastructures were compromised.
"I was surprised at the amount I received from you and how quickly it came." – Y.H., Ft. Myers, FL
About Electric Insurance Company
Electric Insurance Company is a national writer of personal insurance products, including auto, homeowners, renters, condo, and umbrella. Established in 1966 to serve the needs of General Electric employees, the company has since expanded its offerings to the general public. Electric Insurance has the solid foundation required to offer its policyholders high-quality products, competitive rates, and world-class customer service now and in the future.
About the Stevie Awards
Stevie Awards are conferred in eight programs: the Asia-Pacific Stevie Awards, the German Stevie Awards, the Middle East & North Africa Stevie Awards, The American Business Awards®, The International Business Awards®, the Stevie Awards for Women in Business, the Stevie Awards for Great Employers, and the Stevie Awards for Sales & Customer Service. Stevie Awards competitions receive more than 12,000 entries each year from organizations in more than 70 nations. Honoring organizations of all types and sizes, and the people behind them, the Stevies recognize outstanding performances in the workplace worldwide. Learn more about the Stevie Awards at StevieAwards.com.
Sponsors of The 2023 American Business Awards include HCL America, Melissa Sones Consulting, and SoftPro.
On
800.342.5342