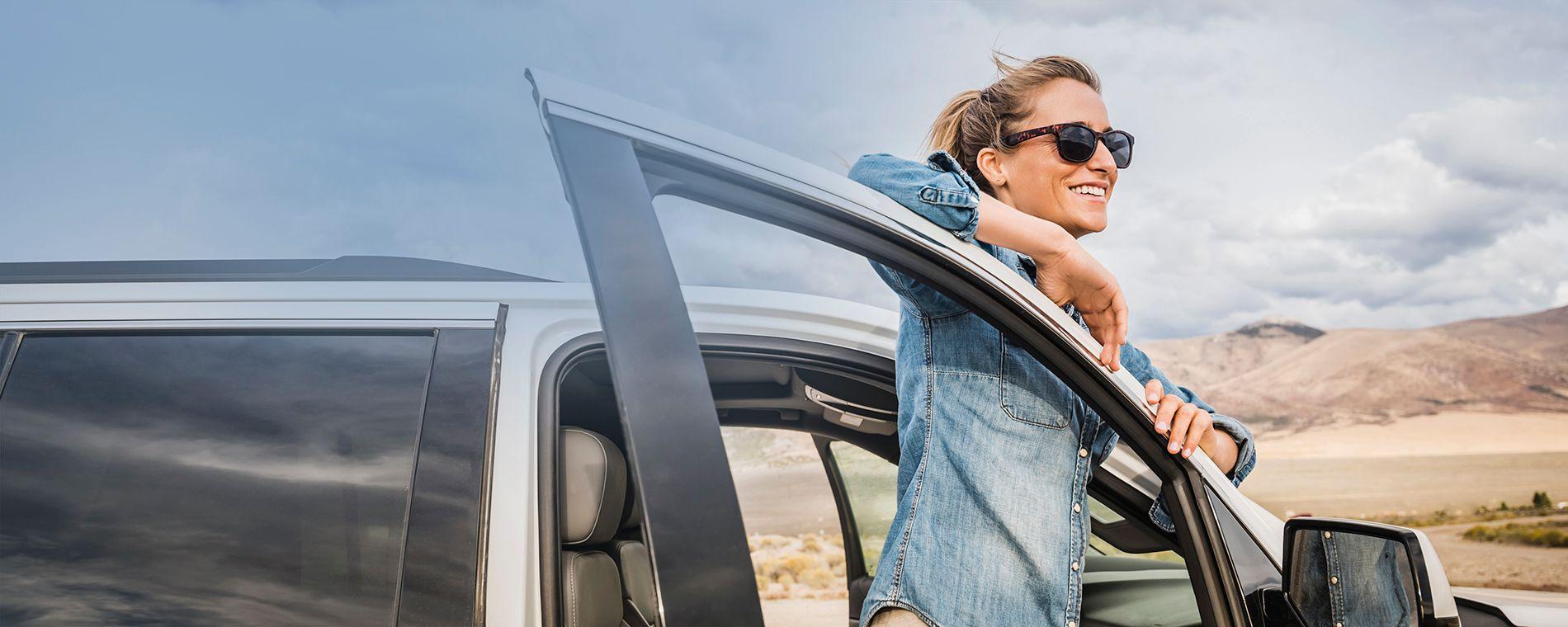 ELECTRIC INSURANCE
Auto Insurance
Great coverage should be easy.
And absolutely reliable.
Go confidently wherever the road and your dreams take you.
Other companies' "extras" are our standard coverages and services
Our Claims Team
Customer satisfaction survey results that count towards recognition awards for our adjusters and proactively checking on customers in catastrophe areas before they filed a claim are only part of why our trophy shelf is full of awards for putting our customers first.
Emergency Roadside Assistance
Add Towing & Labor coverage ($20 or less per vehicle) and you'll get the added security of unlimited roadside assistance services. You and anyone using your car with your permission will get lockout services, flat tire changes, jump starts, towing, winching, and emergency fuel and fluid delivery when and where you need them.⁴
Signature Claim Service Guarantee™
Our claim service is so good that we guarantee it. Make a claim for damage to your vehicle and get the prompt, courteous service you deserve or we'll send you $100.³
Total Care for Totaled Vehicles
Get a fast check for your totaled vehicle and extra time added to your rental coverage to give you time to shop for a replacement vehicle.³
The Great Driver™ app
Use this free app to analyze your driving patterns and get personalized tips for how to improve your behind-the-wheel skills.⁵ Get a Great Driver Auto policy and save 5% - 10% if you live in AZ, CT, IL, MO, OH, SC, WI, or TX.
Need more than basic coverage? We provide both required coverages and additional, optional features.
Build your customized coverage and we'll automatically apply the discounts you deserve.
Product, service, and discount availability and limits vary by state. The information provided on this site is provided for informational purposes only and is not a full explanation of products, services or coverage. For more information, please contact Electric Insurance Company at 800.342.5342. If there are discrepancies between the information on this site and the policy, the terms in the policy apply.
1. American Business AwardsSM
2. Electric Insurance Company Risk Coach™ professionals help you assess your current coverages and exposure to risk based on the information you provide during your discussion. The services provided are for informational purposes only and do not create a professional or fiduciary relationship. Incomplete information or a change in your circumstances after your meeting may affect coverage requirements or recommendations. 
3. Terms and conditions apply
4. Emergency roadside assistance services are provided by Quest Towing Services, LLC.; terms and conditions apply.
5. The Great Driver™ smartphone app is a Risk Coach™ service from Electric Insurance Company®. Participation is optional. Eligibility, qualifications and availability may be modified or changed at any time. Auto policies are underwritten by Electric Insurance Company.
Off