How Ice Dams Form
Ice dams occur when snow on a roof begins to melt from the heat of the house (often due to poor insulation or ventilation) and the water runs off the roof. If there is a significant difference in temperature at the edge of the roof, the water freezes into a solid mass of ice, blocking the melt water from draining properly into the gutters.
What happens next? Ice dams often damage gutters and shingles. Worse, melt water trapped behind the dams can back up into your home. Warped ceilings, walls and floors, and damaged paint and insulation and mildew are likely consequences. Truly massive ice dams can cause roof collapse – destroying the home and contents and endangering residents.
Preventing Ice Dams
From low-tech prevention to advanced systems, there are various solutions to avoiding ice dams.
Do-it-yourself snow removal. If you have a low roof you can reach from the ground, consider purchasing an ice rake to remove fresh snow from the first few feet (from the edges toward the top) of your roof's surface after every storm. Ice rakes are long (approximately 20 feet), very lightweight tools that allow you to pull snow off the roof while you are safely on the ground and well away from the area in which the snow will fall. They are usually available in hardware stores and online.
Be mindful to ensure there is a path for meltwater to flow off the roof so that it does not enter the home in another area. Always use caution to ensure you are not injured when you remove snow.
Snow removal services. If your roof is simply too high, or inaccessible from the ground, or circumstances make removing roof snow yourself unfeasible, contact a snow removal service. Note, though, that fees commonly run about $300 to $600 per hour and some companies require a a two-hour minimum before accepting the job. It's a good idea to identify potential providers early and get several quotes.
Roof-mounted heating cables. Consult a professional to find out about installing specialty heating cables. These cables are generally installed in a zig-zag pattern along the eaves of the roof and prevent ice dams from forming.
Ice-dam resistant roof panels. Professionally mounted, heated panels shaped to maximize runoff and prevent ice from forming may be a good solution for some homes.
Optimizing insulation and ventilation. Do some research about attic ventilation to see if you should make changes. Heat build-up will contribute to ice dams no matter how good your insulation is and usually carries excess moisture, contributing to even more problems. Determine what the optimum insulation is for your area and check it against what you currently have and consider making adjustments if necessary.
An Ounce of Prevention…
…could be worth tens or even hundreds of thousands of dollars of savings to you. If you live in an area likely to get heavy snowfall, take preventative measures to avoid ice dams. You may avoid serious damage to your home and other property and major injury to yourself and family.
Contact us
Our Risk Coaches are licensed insurance professionals who are trained to look at coverage from your perspective. They're glad to help you navigate the often-perplexing world of insurance coverage. Contact your local Risk Coach™ professional, or call us at  800.342.5342 Monday through Friday, from 8:00 a.m. to 8:00 p.m. ET.
Product, service, program, credit, and discount availability and limits vary by state. The information provided on this site is provided for informational purposes only and is not a full explanation of products, services, or coverage. For more information, please contact Electric Insurance Company at 800.227.2757. If there are discrepancies between the information on this site and the policy, the terms in the policy apply.
Electric Insurance Company Risk Coaches help you assess your current coverages and exposure to risk based on the information you provide during your discussion with them. The services provided are for informational purposes only and do not create a professional or fiduciary relationship. Incomplete information or a change in your circumstances after your meeting may affect coverage requirements or recommendations.
Share this: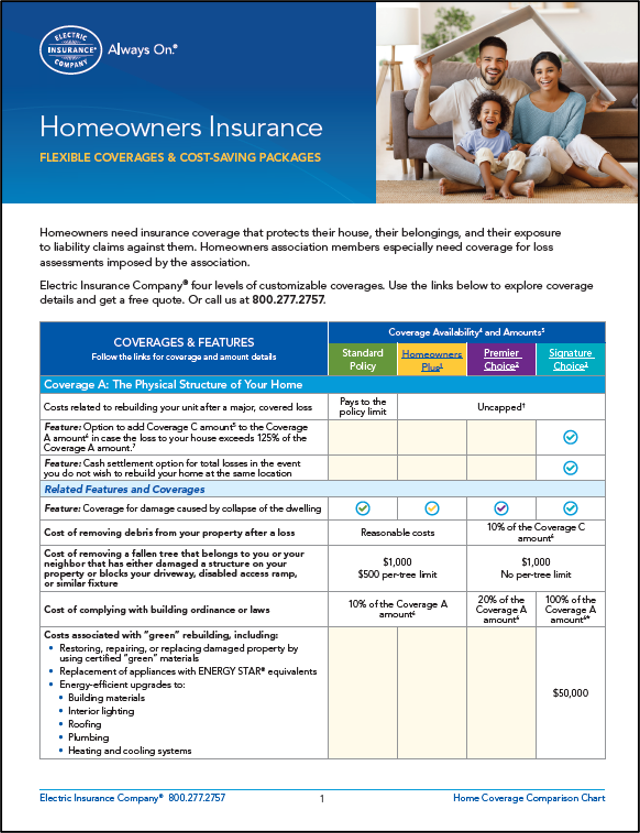 Home values are at an all-time high. Make sure you protect your investment in your home with sound coverage. This easy-to-understand coverage chart (PDF 861kb) helps you know what to get and why.