You've Worked Hard for Your Vehicle
Don't Hand It Over to a Thief
According to the National Highway Traffic Safety Administration, over 800,000 vehicles are stolen in the United States each year, totaling over $6 billion in costs. Traditionally, the summer months tend to be the worst season for vehicle theft. We offer some tips to help keep your vehicle safe and out of the hands of thieves.
Protection Using Awareness
Each car theft creates a major hassle and expense for everyone involved. However, almost half of thefts are due to driver error and are completely preventable. Using common sense and having awareness of your surroundings are usually the best practices:
Take your vehicle's key; do not leave it in or on your vehicle.
Park in well-lit areas if possible.
Close and lock all windows and doors when you park.
Activate the alarm system if your car has one installed.
They Want the Items Inside, Too
Thefts of items in vehicles are even more common than thefts of vehicles — usually because stealing from a vehicle takes less time than stealing the vehicle itself and the goods are easier to sell. (Personal property and accessories worth more than $1.26 billion are stolen from vehicles each year.) Since it takes a thief about five seconds to break your window and then make off with your property, there's a lot of incentive for dishonest people to make a quick buck.
The following items are frequently targeted, so try and keep them out of sight by concealing them under a seat, blanket, cargo cover, etc.: •
Backpacks, briefcases, purses, and wallets
Cash (including loose change)
Firearms
Phones, tablets, laptops, and portable GPS units
House keys
Shopping bags
Sports equipment (e.g., golf clubs)
Stereo systems
Vehicle registrations
Wrapped gifts
Fight Back and Save Money on Your Car Insurance
We are in the fight with you to protect your vehicle from theft. So, we'll take up to 15% off your auto rate if your vehicle has any of the following anti-theft devices. Your state and the type of anti-theft device will determine the amount of the discount:
Alarm only
Active disabling device
Passive disabling device
Vehicle recovery system
Vehicle recovery system alarm
Vehicle recovery system alarm and active disabling device
Vehicle recovery system alarm and passive disabling device
VIN (vehicle identification system) etching on the windshield and windows
What to Do If Your Car Is Stolen
If your car is stolen, call the police immediately. Provide the make, model, license plate number, and VIN. Our insureds should contact us within 24 hours.
Contact Us
Our Risk Coaches™ are licensed insurance professionals who are trained to look at coverage from your perspective. They're glad to help you navigate the often-perplexing world of insurance coverage.
See how much adding an anti-theft device to your vehicle could save you. You pay for the device once, but the discount stays on for the life of your policy.
Contact your local Risk Coach professional or call us at 800.342.5342, Monday through Friday from 8:00 a.m. to 8:00 p.m. ET.
Product, service, program, credit, and discount availability and limits vary by state. The information provided on this site is provided for informational purposes only and is not a full explanation of products, services, or coverage. For more information, please contact Electric Insurance Company at800.227.2757. If there are discrepancies between the information on this site and the policy, the terms in the policy apply.
Electric Insurance Company Risk Coaches help you assess your current coverages and exposure to risk based on the information you provide during your discussion with them. The services provided are for informational purposes only and do not create a professional or fiduciary relationship. Incomplete information or a change in your circumstances after your meeting may affect coverage requirements or recommendations.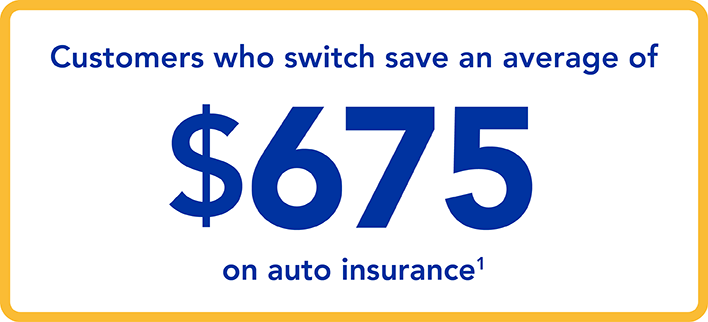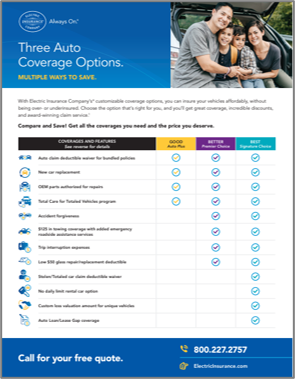 One size of auto coverage does not fit all. Get the right coverage for your needs with one of three flexible coverage options. This at-a-glance chart (.PDF, 1.5mg) shows you coverage highlights so you can make the right choice for you.