Understand the limitations of backup cameras in your vehicle
Backup cameras provide drivers with more visibility behind the car than they can get by turning their head.
They are even more valuable for seeing things that are low to the ground, such as a child, a dog, or a bicycle. However, you still need to pay attention when using them and understand their limitations.
Sadly, hundreds of people are killed each year when drivers back into them. The most common victims are young children and the elderly. That's why, in May 2018, the federal government mandated that all new vehicles weighing less than 10,000 pounds must meet federal rear visibility requirements.
Each automaker takes a different approach to these systems in their vehicles. Some only provide a basic view of what is behind the vehicle, while others show parameters of "safe" areas. There are even systems that are sophisticated enough to show the view above the vehicle. Some views are more helpful than others, but the best advice is to understand how your vehicle's camera works. Most importantly, do not rely entirely on the monitor screen for the truth of your surroundings.
Helpful Tips:
Make sure the camera is clean. Water, ice, or dirt can blur the image.


Walk around the vehicle to check for objects near and to the rear of the vehicle.


Look over both shoulders once you are ready to back up.


Check your side mirrors.


Look back! Make sure you are not relying entirely on the monitor screen.
The good news is that the National Highway Traffic Safety Administration estimates that 58 to 70 lives will be saved each year by the use of vehicles equipped with a rear visibility system. However, you should always remember to look behind your car before you enter it and look behind you before backing up.
Contact Us
Our Risk Coaches™ are licensed insurance professionals who are trained to look at coverage from your perspective. They're glad to help you navigate the often-perplexing world of insurance coverage. Start a quote online, or call us at 800.342.5342, Monday through Friday, from 8:00 a.m. to 8:00 p.m. ET.
Product, service, program, credit, and discount availability and limits vary by state. The information provided on this site is provided for informational purposes only and is not a full explanation of products, services, or coverage. For more information, please contact Electric Insurance Company at 800.227.2757. 

If there are discrepancies between the information on this site and the policy, the terms in the policy apply.

Electric Insurance Company Risk Coaches help you assess your current coverages and exposure to risk based on the information you provide during your discussion with them. The services provided are for informational purposes only and do not create a professional or fiduciary relationship. Incomplete information or a change in your circumstances after your meeting may affect coverage requirements or recommendations.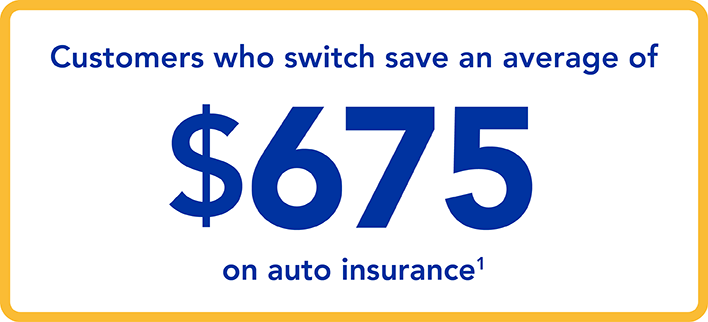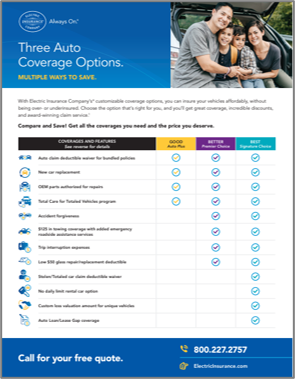 One size of auto coverage does not fit all. Get the right coverage for your needs with one of three flexible coverage options. This at-a-glance chart (.PDF, 1.5mg) shows you coverage highlights so you can make the right choice for you.