How to Buy a Used Car
Gearing up to purchase a used car? Brace yourself: The average pre-owned vehicle sold for $27,256 in May, up $457 from April. Even that high price is better than the average cost of a new vehicle: $48,008.
The good news: Prices for used cars could fall in the months ahead, as more pre-owned vehicles come on the market. Already, pre-owned inventory reached nearly 1,768,000 vehicles at the beginning of May, a 4% increase from a month prior.
Take these steps to score a great deal on a used car.
Determine your price range. Before you begin shopping, figure out how much car you can afford. Setting a budget can help you spend within your means. A good rule of thumb: Your monthly car payment shouldn't be more than 10% of your take-home pay. Consider not only the purchase price but also additional expenses like taxes, insurance, and registration fees.
Shop around for loan offers. Get quotes from several lenders to compare interest rates and terms. To explore a broad range of financing options, solicit offers from a mix of banks, credit unions, online lenders, and dealerships.
Zero in on a certified pre-owned vehicle. You don't want to buy a vehicle that's going to become a money pit for repairs. Hone your search by looking at only certified pre-owned (CPO) vehicles—cars that have been professionally inspected and approved by the manufacturer. CPO cars tend to have less wear and tear, and many come with a long-term warranty.
Cast a wide net. Both new and used vehicle inventory are nearly back to pre-pandemic levels, meaning you have many options, especially if you look at not just local dealerships but also dealerships in other states.
Check the vehicle history. Before making an offer on a car, obtain a vehicle history report. (Many, but not all, CPOs come with one.) This document contains vital information, such as how many owners the car has had and whether it's been in any accidents. It's also a good idea to see if there's a record of an insurance theft claim for the vehicle; you can do this by searching the car's vehicle identification number (VIN) on the National Insurance Crime Bureau's website.
Take a test drive. Give the car a spin to evaluate how it feels behind the wheel. Pay attention to cabin comfort, acceleration, braking, steering and handling, noise, and visibility. Also, play around with the infotainment system to ensure it's easy to use while driving; you don't want a distracting tech system that's going to take your attention off the road.
Get a mechanical inspection. Have the vehicle inspected by a professional mechanic at an auto repair shop that you trust. A mechanical inspection can help identify potential problems, like suspension issues and rust, providing peace of mind about your purchase. A basic pre-purchase inspection (PPI) typically costs $100 to $200.
Haggle. Used car prices are often negotiable. Therefore, don't hesitate to make a counteroffer when you sit down with a salesperson. Do your homework ahead of time by researching the average sales price of the specific model and trim—that way you can evaluate whether you're getting a good offer. Get insurance coverage. Make sure to get an insurance policy that's tailored to your new needs before you start driving your newly acquired used car.  
Take the Risk Coach™ Approach
A 2022 survey found that 96% of survey respondents misunderstood at least one important feature of their insurance coverage. More than half misunderstood several. We want better than that for our clients. When you work with our Risk Coaches, you'll work with a licensed insurance professional who'll help you get the right coverage at the best price.
Call or Use Chat to Contact a Risk Coach
Use the chat feature on this page, or call us for a no-cost, no-obligation-to-buy, quote for car insurance coverage needs assessment. Our Risk Coaches are glad to help you navigate the complex world of auto insurance coverage. Call us at  800.342.5342  Monday through Friday, from 8:00 a.m. to 8:00 p.m. ET.
Disclosures (Opens in a new window)
Share this: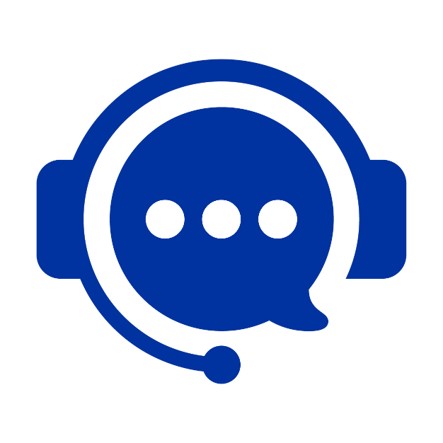 Call or Use Chat to Contact a Risk Coach
For a no-cost and no-obligation-to-buy coverage-needs assessment, use the chat feature on this page or call us at the number below. Our Risk Coaches are glad to help you get the coverage you need for your new-to-you vehicle.
Call us at 800.342.5342, Monday through Friday, from 8:00 a.m. to 8:00 p.m. ET.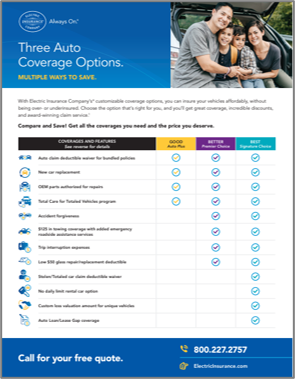 One size of auto coverage does not fit all. Get the right coverage for your needs with one of three flexible coverage options. This at-a-glance chart (.PDF, 1.5mg) shows you coverage highlights so you can make the right choice for you.