Protect Your Family and Home with Chimney Safety Practices
Fireplaces and woodstoves provide a great way to heat your home during the colder months. However, it is important that you make sure your chimney is working properly to prevent fires and protect your family.
According to the U.S. Consumer Product Safety Commission (USCPSC), an average of 25,000 chimney fires occur annually in the United States –– resulting in an estimated $125 million in property losses.
Chimney fires can burn intensely and can spread to other parts of your house. They can be hard to spot in time to prevent a catastrophe because many are slow-burning and may not get enough air or fuel to be visible. These types of fires can reach very high temperatures and cause extensive damage to a chimney's structure and other parts of the house.
Chimney fires are a dangerous and serious problem to have, but the good news is they are also very preventable. Here are some helpful tips to keep you and your family safe.
Chimney Safety Tips
Have your chimney inspected annually even if you don't use your chimney often. A chimney inspection can help prevent issues such carbon monoxide buildup and chimney fires, and can identify potential system issues to address before they become dangerous or costly.
Have your chimney inspected and cleaned annually by a CSIA-certified chimney sweep.


Ensure there is no prior damage to your chimney that may affect its ability to work safely.


Be sure that the top of the chimney is clear of overhanging branches or ivy that may have grown over it during the warmer months.


Be sure that the damper of the chimney is open before lighting a fire.


Use the right kind of fuel. Hard wood or stove pellets are best for burning and yield the most heat. Never burn pine (including Christmas trees) or pressure-treated/painted wood.


Do not use any type of liquid fire starters. Only use fire starters specifically designed for fireplaces or woodstoves.


Use a fireplace screen to prevent flying sparks and embers from falling out on the floor.


Install and maintain smoke alarms and carbon monoxide detectors.


Be sure to properly dispose of ashes from chimneys and stoves.
Contact Us
Our Risk Coaches™ are licensed insurance professionals who are trained to look at coverage from your perspective. They're glad to help you navigate the often-perplexing world of insurance coverage. Start a quote online, or call us at  800.342.5342, Monday through Friday, from 8:00 a.m. to 8:00 p.m. ET.
Product, service, program, credit, and discount availability and limits vary by state. The information provided on this site is provided for informational purposes only and is not a full explanation of products, services, or coverage. For more information, please contact Electric Insurance Company at 800.227.2757. 

If there are discrepancies between the information on this site and the policy, the terms in the policy apply.

Electric Insurance Company Risk Coaches help you assess your current coverages and exposure to risk based on the information you provide during your discussion with them. The services provided are for informational purposes only and do not create a professional or fiduciary relationship. Incomplete information or a change in your circumstances after your meeting may affect coverage requirements or recommendations.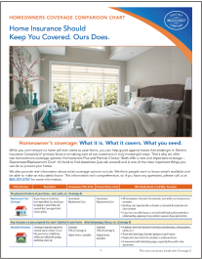 Home values are at an all-time high. Make sure you protect your investment in your home with sound coverage. This easy-to-understand coverage chart (PDF 2,600kb) helps you know what to get and why.