For most of us, our home is the biggest single expense we'll ever have. Because a poorly maintained property can lose about 20% of its appraised value, you'll want to protect that investment by keeping your home in good condition. Stay ahead of maintenance issues and prevent expensive problems by following a home maintenance schedule that breaks down tasks into manageable chunks.
Make a checklist
Create a list of actions you should take monthly, seasonally, and annually. (Time-saving hack: Check out the many free templates available online and tailor one to your needs.) Creating or customizing a spreadsheet is a good way to track the actions you took, dates, and associated expenses, as well as next steps. This is particularly useful when you hire a contractor so you have a record of activity in the larger context of maintenance and repair.
Activities to consider
There's no "one size fits all" home maintenance schedule. Adapt yours to the type (condo vs. house) and location of your home, number of occupants, etc. The items below are a general list of maintenance issues to stay on top of.
Monthly
Check HVAC filters and clean or replace them if needed.
Check and clean your range hood/exhaust fan to improve function and ensure the buildup of grease doesn't attract pests.
Test smoke and carbon monoxide alarms.
Test the water heater pressure/temperature release valve.
Clean the garbage disposal and drains.
Check the water softener and add salt if needed.
Inspect the caulking in the kitchen and bathroom and touch it up if needed – even small water leaks can lead to thousands of dollars of damage.
Winter
Inspect your holiday decorations closely for worn or frayed parts and discard or replace as needed before using.
Check electrical cords for fraying or damage and replace them as needed.
Check the exterior of the house and roof after every storm. Look for missing or damaged shingles, fascia, or soffits, and loose siding.
If you live in a snowy climate, make sure your snow-removal equipment is in good shape.
Spring
Consider scheduling a roof inspection by a licensed contractor, especially if your roof is older or if there have been severe storms since it was last inspected. Make sure that the inspection includes soffits, fascia, and flashing around your chimney and skylights.
Clean the roof gutters.
Change smoke and carbon monoxide alarm batteries.
Clean dryer and exhaust vents.
Vacuum under your refrigerator, dishwasher, washing machine, and dryer – improving the airflow helps them run efficiently and use less electricity. Don't forget to vacuum the refrigerator coils as well.
Check washing machine, dishwasher, and refrigerator hoses for leaks.
Drain the water heater to flush out accumulated sediment.
Summer
Prepare your air conditioners and fans – clean filters and check the electric cords.
Check for signs of insect nests on the exterior and in the attic.
Consider scheduling inspection of your heating system by a professional. If there's an issue, it is likely to be fixed more quickly than if it's discovered in the busy time at the start of the fall heating season.
Inspect window screens and repair or replace if needed.
Look for exposed paint and touch up any peeling or bare spots to protect the wood underneath.
Review your deck's surface and supports. Look for rotten wood, protruding nails, rusted hardware, worn sealing, and other condition issues.
Fall
Schedule a professional inspection of your heating system.
Drain and store outdoor hoses and in-ground lawn sprinklers.
Insulate outdoor faucets and block air leaks around pipes in unheated garages.
Check washing machine, dishwasher, and refrigerator hoses for leaks.
Clean roof gutters and inspect the fascia and flashing
Change smoke and carbon monoxide alarm batteries.
Biannually
Inspect your foundation for cracks. Be especially vigilant if your home has developed jammed doors or windows or cracks along the walls or basement floors. Those can be symptoms of shifts in your foundation that can destabilize your whole house. If you suspect trouble, call a contractor immediately.
Annually
Test your sump pump.
Check the tile grout.
Getting started and staying on track
Life happens. It's easy to be distracted by the non-stop demands on our time and put off maintenance and repairs. Adding regular home maintenance tasks to your calendar can help you stay focused. If you find to-do lists daunting, try using an electronic calendar and take advantage of the reminder feature so that you have a few days' warning to prepare for the task. You can also check out the many free or low-cost home maintenance apps, which include additional useful features.
Contact Us
Our Risk Coaches™ are licensed insurance professionals who are trained to look at coverage from your perspective. They're glad to help you navigate the often-perplexing world of insurance coverage. Contact your local Risk Coach professional or call us at 800.342.5342, Monday through Friday from 8:00 a.m. to 8:00 p.m. ET.
Product, service, program, credit, and discount availability and limits vary by state. The information provided on this site is provided for informational purposes only and is not a full explanation of products, services, or coverage. For more information, please contact Electric Insurance Company at 800.227.2757. If there are discrepancies between the information on this site and the policy, the terms in the policy apply.


 
Electric Insurance Company Risk Coaches help you assess your current coverages and exposure to risk based on the information you provide during your discussion. The services provided are for informational purposes only and do not create a professional or fiduciary relationship. Incomplete information or a change in your circumstances after your meeting may affect coverage requirements or recommendations.
Share this: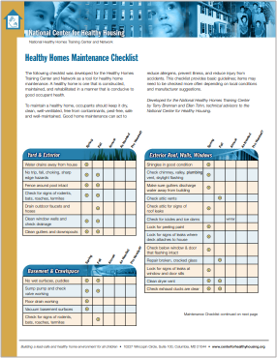 Free home maintenance checklist (PDF 547kb) from the National Center for Healthy Housing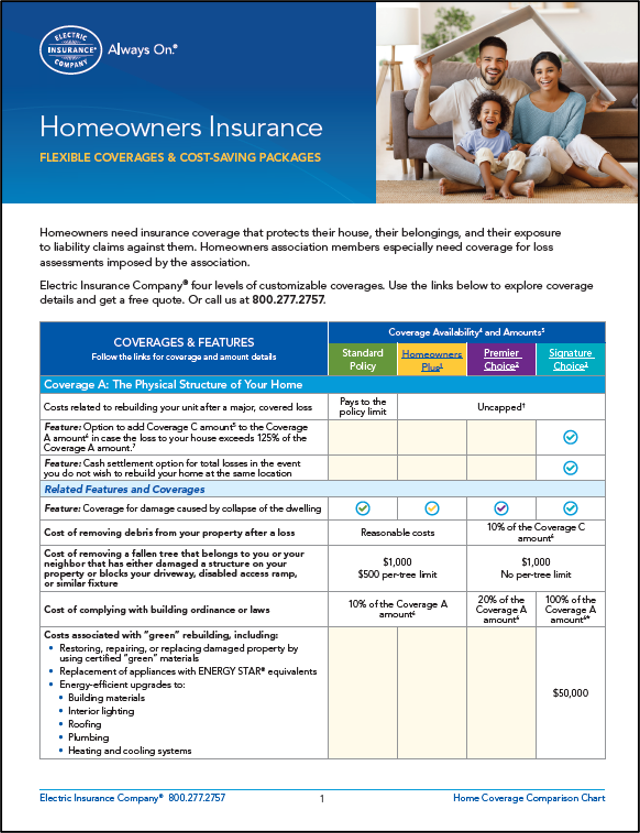 Home values are at an all-time high. Make sure you protect your investment in your home with sound coverage. This easy-to-understand coverage chart (PDF 820kb) helps you know what to get and why.