If your home or property has been damaged or destroyed, you'll want to submit an insurance claim ASAP. Depending on the amount of damage, you may need to provide a lot of documentation. You may even have to submit proof of your loss to the IRS so that you can file your loss on your income tax return. If you have a major loss it can look like an overwhelming task. Fortunately, there are several things you can do beforehand that will make the process go much more smoothly and much faster.
Planning for stress-induced brain fog.
Can you list everything you own off the top of your head right now? "Everything" means all your belongings in plain sight plus everything you stowed away in closets, drawers, attics, cellars, and garages over the years. No?
If you're filing a claim, there's a good chance you're under a lot of strain. Stress can make it very hard to remember details. Trying to recall the specifics of your belongings so that you can provide them to the insurance company while trying to arrange repairs, and perhaps temporary living quarters, childcare, and other important tasks means that you may leave out some crucial information.
Be prepared. Leverage technology
Use an inexpensive home inventory app now. Home inventory apps help you catalogue and organize your personal property. The best include a scanner, barcode recognition, photo storage, and a notes section that allow you to add information such as the purchase date, receipt, serial number and purchase date and warranty data.
They're inexpensive; some are free while other cost just a few dollars. Check reviews before committing to one. Make sure the one you select is easy to use and allows you to upload the contents so can store your information online. One highly rated app is free for personal use.
Check out Sortly: Inventory Simplified in the App Store or Google Play.* While the app is primarily for businesses, it is also useful for home inventory (…and did we mention it's free?).
Take photos. A home inventory app is great for high-cost items such as your kitchen appliances, lawnmower, jewelry, and furniture. But it may not be the best way to track your other belongings. For example, you might not think about documenting your clothing and shoes. You should – you may have thousands of dollars invested in them. And how about all your linens, kitchenware, manual tools, and bath ware? These items could cost you tens of thousands of dollars to replace.
If you can't prove that you owned them, it may be very difficult to be reimbursed. There's an easy solution: take photos of the contents of your closets, drawers, cabinets and vanities. Don't forget the contents in your garage, workshop, shed, cellar and attic. If you own it, take photos of it. If you buy it, take a photo of the receipt, too.
Use online storage. Upload your inventory and photos so you can have immediate access to them in case you must file a claim. You should also think about storing the information on physical media and keeping copy in a safety deposit box.
Document damage
Proof of loss. Take photos of the damage from several angles and keep the electronic copies – you will usually have to provide them to your insurance company. .
Contractor management. The majority of contractors are honest licensed professionals. However, there are plenty of shady characters who would be happy to exaggerate or increase the damage unknown to you in order to inflate their repair bill. Taking detailed photos and letting the contractor know you have documented the damage narrows the opportunity for fraud.
Document repair efforts and costs
Your homeowners policy includes coverage for temporary repairs or actions you take to prevent further damage before the adjuster can review your property. That waterproof tarp you buy to cover a hole in your roof or plywood and nails you purchase to cover a broken window are reimbursable. Make sure you document all your purchases and related repairs and take photos of your receipts and efforts.
Track temporary cost-of-living expenses
Your policy (home, condo, and renters) covers some expenses that you incur if you cannot live in your home due to damage. Keep track of costs related to hotel/motel stay, pet boarding, laundromat use, prepared meals and other costs of daily living that are not part of your normal daily expenses. Preparation and documentation are the key to making your homeowners claim go as quickly and smoothly as possible and ensuring that you are appropriately reimbursed to the policy limits for your losses.
Contact Us
Our Risk Coaches™ are licensed insurance professionals who are trained to look at coverage from your perspective. They're glad to help you navigate the often-perplexing world of insurance coverage. Contact your local Risk Coach professional or call us at 800.342.5342, Monday through Friday from 8:00 a.m. to 8:00 p.m. ET.
* Please note that Electric Insurance Company cannot recommend third-party products and is providing information as a courtesy to our customers and readers.
Product, service, program, credit, and discount availability and limits vary by state. The information provided on this site is provided for informational purposes only and is not a full explanation of products, services, or coverage. For more information, please contact Electric Insurance Company at 800.227.2757. If there are discrepancies between the information on this site and the policy, the terms in the policy apply.


 
Electric Insurance Company Risk Coaches help you assess your current coverages and exposure to risk based on the information you provide during your discussion. The services provided are for informational purposes only and do not create a professional or fiduciary relationship. Incomplete information or a change in your circumstances after your meeting may affect coverage requirements or recommendations.
Share this: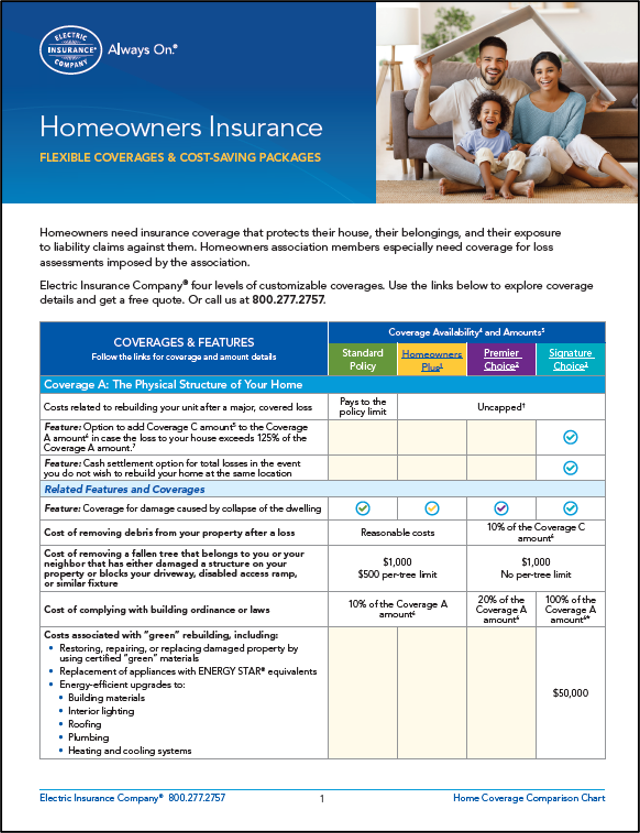 Home values are at an all-time high. Make sure you protect your investment in your home with sound coverage. This easy-to-understand coverage chart (PDF 820kb) helps you know what to get and why.