Here's an eye-opener: There are about 995 house fires a day in the United States – that's about one house fire every 87 seconds. What's even more surprising is that the majority are related to just five everyday activities and items. Here's what to do to reduce your chances of a potential tragedy.
Cooking. The National Fire Protection Association estimates that a whopping 173,000 house fires involve cooking equipment. Most fires start on the stove top and spread because the kitchen is unattended.
Stay in the kitchen when cooking. Leaving cooking food unattended is a major factor in 31% of cooking fires.
Keep flammable items such as towels, oven mitts, food packages and wooden utensils away from the stove top.
Keep your grill at least 10 feet away from your house, deck railings and areas under eaves.
Heating equipment. More than 25,000 of the estimated 52,000 house fires related to heating equipment happen between December and February. Here are a few things you can easily do now to cut down on your chances of fire damage, injuries and fatalities.
Don't put anything that can ignite closer than three feet from the heat source.
Establish a three-foot "kid and pet-free zone" around the heat source.
Turn off space heaters before you leave the room or go to bed.
Don't buy heaters that have not been certified by a reputable testing laboratory.
Buy heaters that will automatically turn off if they are overturned.
Electrical equipment. We take for granted that flipping on the light switch or turning on the coffeemaker has a high potential to cause major damage. In fact, electrical equipment is involved in about 35,000 house fires each year. Here are just a few changes you can easily make to avoid an electrical fire.
Don't overload your outlets – use only one heat-generating appliance (such as a toaster oven or coffeemaker) in an outlet at a time.
Make sure your electrical cords are not pinched under furniture legs, laying across doorways or placed under carpets.
Replace frayed or worn appliance cords and extension cords.
Don't plug major appliances (such as refrigerators, ovens, washers, dryers, air conditioners, etc.) into an extension cord or power strip.
Get more safety information from the National Fire Protection Association (PDF 467kb).
Smoking. Smoking is the leading cause of fire-related deaths. If you or someone in your household smokes, do the following:
Smoke outside – most smoking-related house fires and fatalities start indoors.
Keep smoking materials such as lighters and matches away from children.
Extinguish your cigarettes in a sturdy ashtray. Never flick your butts into grass, bushes, mulch, leaves or any other easily ignited material.
Make sure your butts and ashes are fully out before putting them in the trash.
Never smoke near medical oxygen tanks, even if they are turned off.
Candles. About 8,200 home fires each year are started by candles – that's 23 each day. Keep these tips in mind:
Keep kids and pets away from candles and make sure kids don't have access to matches or lighters.
Don't put anything ignitable, such as decorations, curtains or wallpaper, closer than one foot from the candle.
Be aware of your clothing and hair – keep them away from the flame.
Never leave burning candles unattended. Blow them out when you leave the room.
Never go to sleep with a burning candle.
Do not light a candle if oxygen is used in the home.
Contact Us
Our Risk Coaches™ are licensed insurance professionals who are trained to look at coverage from your perspective. They're glad to help you navigate the often-perplexing world of insurance coverage. Contact your local Risk Coach professional or call us at 800.342.5342, Monday through Friday from 8:00 a.m. to 8:00 p.m. ET.
Product, service, program, credit, and discount availability and limits vary by state. The information provided on this site is provided for informational purposes only and is not a full explanation of products, services, or coverage. For more information, please contact Electric Insurance Company at 800.227.2757. If there are discrepancies between the information on this site and the policy, the terms in the policy apply.


 
Electric Insurance Company Risk Coaches help you assess your current coverages and exposure to risk based on the information you provide during your discussion. The services provided are for informational purposes only and do not create a professional or fiduciary relationship. Incomplete information or a change in your circumstances after your meeting may affect coverage requirements or recommendations.
Share this: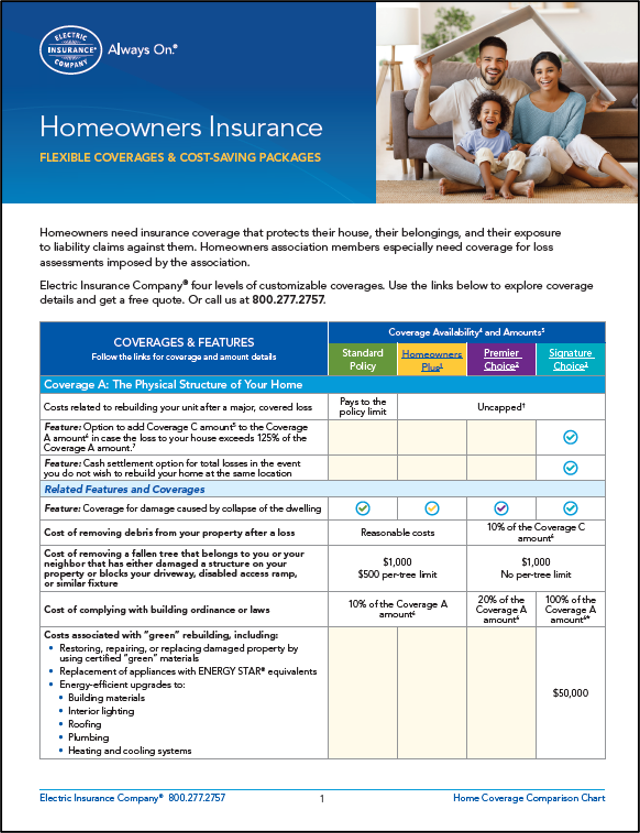 Home values are at an all-time high. Make sure you protect your investment in your home with sound coverage. This easy-to-understand coverage chart (PDF 820kb) helps you know what to get and why.