How to Make Your Home More Secure
Nothing feels more intrusive than having your home burglarized. However, a break-in happens every 26 seconds in the U.S., according to the most recent data available from the FBI. That adds up to 2.5 million break-ins per year, with more than half of burglaries occurring in homes. Plus, the average loss in a home burglary is $8,290.
The good news? Taking a few smart steps can help protect your house and its contents from theft.
Invest in a home security system. This precaution may seem like a no-brainer, but it's worth mentioning since only 17% of homes in the U.S. have a security system, the National Council for Home Safety and Security reports. Yet six out of 10 burglars in a study by University of North Carolina at Charlotte said they would seek an alternative target if they spotted a home had an alarm system.

Depending on your budget, you may look into getting a professionally monitored or self-monitored home security system. (Many DIY security systems have mobile apps that make it easy for you to arm and disarm your alarm system from your smartphone.) To ward off burglars, make sure to post a sign with your alarm company's logo on your lawn or front entrance.


Install motion detecting lights. Motion-activated lighting devices enhance your home's security and can scare off crooks. Costs may vary depending on the style and type of motion sensor lighting you purchase, but expect to pay $30 to $60 apiece for motion sensor spotlights.


Keep all entry points locked when you're not home. Many burglars don't actually "break in" to homes—nearly one-third enter houses through an unlocked door or window, according to ConsumersAdvocate.org. So, lock all access points to your home, including garage doors and second-story windows, when you leave the house. Also, check locks periodically to see if any are weak or broken and need to be replaced.


Remove your "hidden" house key. That spare key you keep under a door mat, beneath a rock, or inside a flowerpot in case you get locked out? Burglars know these common hiding spots. Instead, give a neighbor a key to your home.


Secure your house even when you're home. About three out of every 10 household burglaries occur when a household member is home. The moral: Be vigilant, even when you're home. For example, if you're keeping a window open while you're home, make sure it isn't more than 4 inches wide, so that burglars can't sneak through.


Play the "what if" game. Simulating a break-in can help you identify flaws in your home security measures. Therefore, enlist a friend to attempt to break in to your home and address any weak spots.


Suspend mail delivery when you go away. Planning to take a vacation? Having your mailbox or front porch overflowing while you're out of town can signal to burglars that you're not home. You can schedule up to a 30-day mail hold with the USPS online. For longer trips, have your mail forwarded to a neighbor who will be home.
The bottom line? There are a number of ways you can protect your home from burglars—and you don't need to have a big budget to do them. By taking the right safety measures, you'll safeguard your home and significantly reduce your chances of being burglarized.
Contact Us
Our Risk Coaches are licensed insurance professionals who are trained to look at coverage from your perspective. They're glad to help you navigate the often-perplexing world of insurance coverage. Contact your local Risk Coach™ professional or call us at  800.342.5342.
Electric Insurance Company Risk Coaches help you assess your current coverages and exposure to risk based on the information you provide during your discussion. The services provided are for informational purposes only and do not create a professional or fiduciary relationship. Incomplete information or a change in your circumstances after your meeting may affect coverage requirements or recommendations.
Product, service, program, credit, and discount availability and limits vary by state.
The information provided on this site is provided for informational purposes only and is not a full explanation of products, services, or coverage. For more information, please contact Electric Insurance Company at 800.227.2757. If there are discrepancies between the information on this site and the policy, the terms in the policy apply.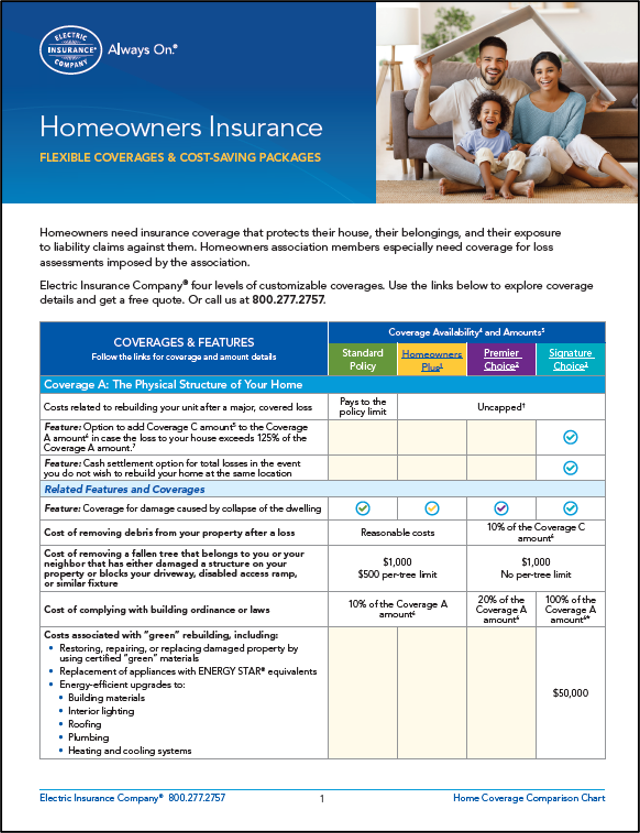 Home values are at an all-time high. Make sure you protect your investment in your home with sound coverage. This easy-to-understand coverage chart (PDF 820kb) helps you know what to get and why.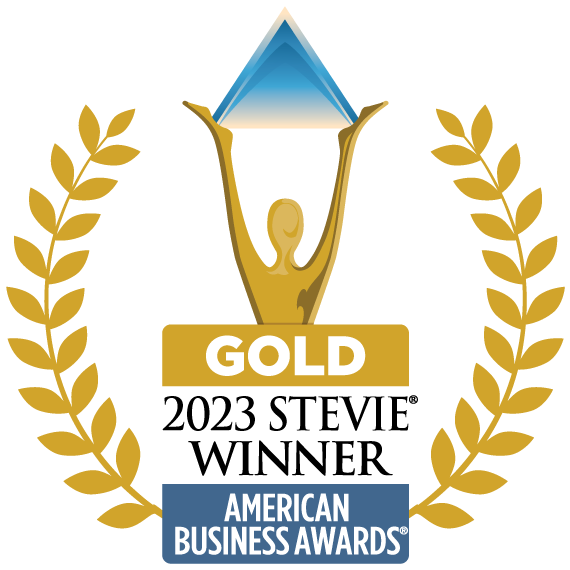 <