The last thing you want to worry about before you head off on vacation is a break-in! Unfortunately, an empty home is an easy target for burglars; it's no surprise that peak vacation times coincide with the highest number of break-ins. There's good news, though: taking the time to make your home less inviting to burglars may help prevent theft or damage while you're away.
An Ounce of Deterrent
Making your home look occupied is the key to avoiding break-ins. You may be able to deter criminals by taking the following precautions.
Stop all mail and newspaper deliveries, or ask a trusted neighbor to collect them for you.


Lower the ring on your phone, so it cannot be heard outside. Similarly, turn down the volume on your answering machine if you have one.


Leave shades, blinds, or curtains in their regular positions. However, move any valuables away from windows so they cannot be seen. Consider storing jewelry and other valuables in a safe deposit box.


Trim the shrubs and large trees so trespassers have fewer spots to hide.


If possible, leave a locked vehicle in your driveway, or ask a neighbor to park there.


Connect your light switches and a radio to an automatic timer to give the appearance that someone is home.


Install motion-detecting flood-lights for your yard. Bright light may make it more difficult for intruders to go unnoticed.


Ask a neighbor to put out your garbage and mow your lawn.


Make sure all windows and doors are locked. Deadbolts or cylinder locks may provide the best protection for doors. If you have a garage, don't forget to secure the door and any entrances.


If you have a sliding glass door, put a steel or wooden rod in the door channel.


Consider installing an alarm system that directly alerts a monitoring service or police station in the event of a break-in. If a system is too expensive for your budget at this time, simply sticking an alarm decal in a visible location may be enough to scare away a burglar.


Do not leave a spare key under a doormat, potted plant, or a rock. These are well-known hiding places. Instead, give a spare key to a trusted friend or neighbor.


Avoid broadcasting your vacation plans via social networking sites such as Facebook and Twitter. You can never be completely sure who may see it.
Before you leave for a vacation, take the right precautions to make your home as burglar-proof as possible. Your trip may be much more relaxing and enjoyable if you know your home is safe while you are away.
Electric Insurance Company Risk Coaches help you assess your current coverages and exposure to risk based on the information you provide during your discussion with them. The services provided are for informational purposes only and do not create a professional or fiduciary relationship. Incomplete information or a change in your circumstances after your meeting may affect coverage requirements or recommendations.
Product, service, program, credit, and discount availability and limits vary by state. The information provided on this site is provided for informational purposes only and is not a full explanation of products, services or coverage. For more information, please contact Electric Insurance Company at 800.227.2757. If there are discrepancies between the information on this site and the policy, the terms in the policy apply.
Share this: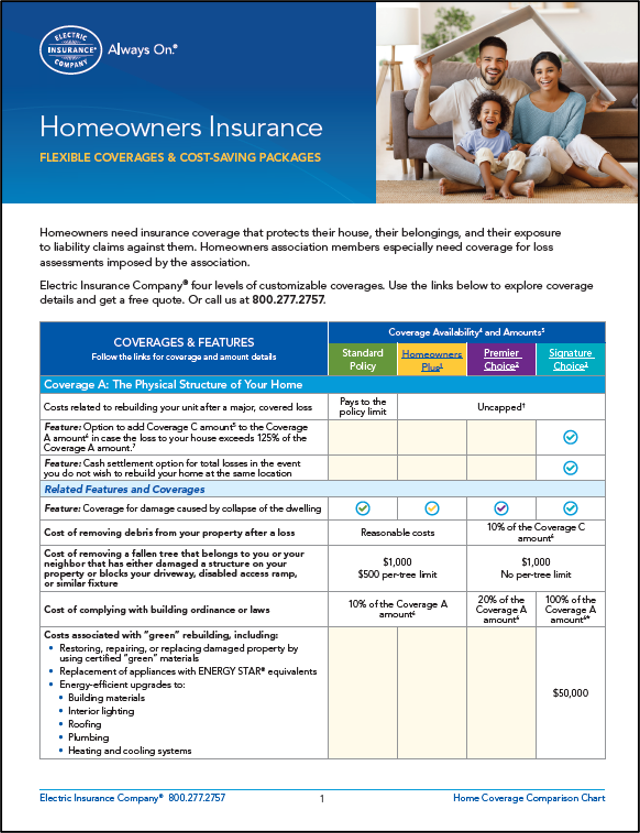 Home values are at an all-time high. Make sure you protect your investment in your home with sound coverage. This easy-to-understand coverage chart (PDF 820kb) helps you know what to get and why.