It's Tornado Season.
Here's how to protect yourself, your home, and your car.
Most tornadoes in the U.S. strike between March and June. These storms are violent—in an average year, about 1,000 tornadoes touch down across the country, resulting in an average of 80 deaths and more than 1,500 injuries. Last year alone, 1,377 tornadoes struck the country.
Worse yet, the number of tornado reports in America increased fivefold between 1950 and 2020, according to the National Oceanic and Atmospheric Administration (NOAA). (Climate change may be to blame. ) This news may be especially worrisome to the people who suffered during the tornado outbreak that occurred over Easter of 2020, when 137 tornadoes touched down in 10 different states in just two days.
But no matter where you live, it's a good idea to be prepared for a tornado, because a tornado can happen anywhere. Here are a few things you can do to protect your family and property.
Watch for warning signs. Meteorologists can sometimes predict severe weather events like tornadoes, but not always. So, instead of solely relying on your local weather station, know how to spot the signs of a tornado. These signs include a rotating, funnel-shaped cloud: an approaching cloud of debris, especially at ground level; a loud roar, similar to a freight train; large hail; or a dark, often greenish sky.
Live in an area prone to tornadoes? Consider getting a weather radio—a device that provides severe weather alerts from NOAA.
Designate a safe shelter. Seek shelter when there's a tornado warning. If your home doesn't have a storm shelter, select a small, windowless room or a basement on the lowest level of your home (or apartment building). Practice going to the safe location with your entire household, including your pets.
Stay safe during the tornado. Once you're in a shelter, cover yourself with some sort of thick padding, like a quilt, to protect against falling debris in case the ceiling fails. If there's a bathtub, lay in it. Tubs have strong framing that can sustain heavy winds.
Under no circumstances should you try to outrun a tornado in your vehicle—cars, trucks, and buses are easily tossed by tornado winds. If you're driving when a tornado warning is issued, take shelter in a nearby building immediately.
Stay safe after the storm. First, check for injuries. If you or a family member is injured, provide first aid (for minor cuts and bruises) or seek medical treatment right away for more serious injuries.
Use extreme care when walking around your home—you could suffer an injury by stepping on fallen debris, such as glass. If your home was damaged, wear appropriate gear during clean-up like long pants, a long-sleeved shirt, thick-soled shoes, and work gloves.
Contact Us
Our Risk Coaches™ are licensed insurance professionals who are trained to look at coverage from your perspective. They're glad to help you navigate the often-perplexing world of insurance coverage. Contact your local Risk Coach professional or call us at 800.342.5342, Monday through Friday from 8:00 a.m. to 8:00 p.m. ET
Product, service, program, credit, and discount availability and limits vary by state. The information provided on this site is provided for informational purposes only and is not a full explanation of products, services, or coverage. For more information, please contact Electric Insurance Company at 800.227.2757. If there are discrepancies between the information on this site and the policy, the terms in the policy apply.
Electric Insurance Company Risk Coaches help you assess your current coverages and exposure to risk based on the information you provide during your discussion. The services provided are for informational purposes only and do not create a professional or fiduciary relationship. Incomplete information or a change in your circumstances after your meeting may affect coverage requirements or recommendations.
Share this:
Check your tornado damage coverage.
Tornadoes cause about $14 billion in insured losses annually, according to the most recent data. See our article with tips on how to make sure that your home and car insurance policies will stand up to tornadoes.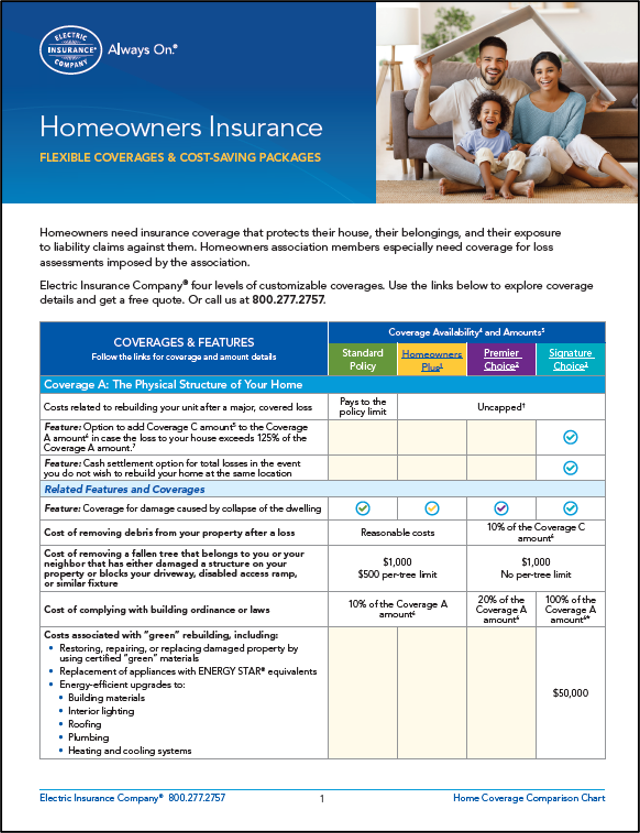 Home values are at an all-time high. Make sure you protect your investment in your home with sound coverage. This easy-to-understand coverage chart (PDF 820kb) helps you know what to get and why.