Smart Ways to Shop Safely This Holiday Season
The holidays are a time to celebrate and, of course, a time to shop. This year consumers plan to spend an average of $997.73 on gifts, holiday items such as decorations and food, and additional "non-gift" purchases for themselves and their families.
A lot of Americans will be shopping from the comfort of their computers. U.S. online purchases over the 2020 holidays (November through December) jumped 32.2% from 2019, according to Adobe Analytics. Cyber Monday sales alone surpassed a record-breaking $10 billion last year.
Whether you'll be shopping online, in stores, or both this holiday season, taking these steps will help protect you from package theft, credit card fraud, identity theft, and other cons.
Protect your packages from porch pirates. Package theft soars during the holidays. The good news is there are things you can do to safeguard your deliveries from thieves.


Sign up for USPS' free Informed Delivery service. It sends you notifications of upcoming mail and lets you check when packages are scheduled to arrive. 


Schedule UPS and FedEx deliveries around when you'll be home. Don't want packages left on your front porch while you're not there? FedEx allows customers to schedule delivery on a specific date at a specified time. UPS customers can schedule a two-hour delivery window for an extra fee. (USPS does not allow people to set a time for when their packages will be delivered—it does, however, let them schedule a specific day for missed packages to be redelivered.)


Consider getting a P.O. Box at your local post office. This is a good idea if you're going to be traveling this holiday season.


Going out of town? Request a mail hold. Request a mail hold service before you travel, if you don't want to set up a P.O. box. USPS will hold your mail at your local post office for up to 30 days. FedEx provides free mail holding for packages for up to 14 days. UPS will hold its packages for up to five days at no additional charge.


Give mailmen delivery instructions. Never leave packages in plain sight. UPS, FedEx, and USPS allow you to provide special instructions to drivers, such as telling them to leave packages at a back door.


Safeguard your sensitive information. According to a recent Experian survey, 8% of consumers report they've been a victim of identity theft during the holiday season. The following measures can reduce your exposure:


Don't save payment card information on websites. Avoiding this will keep your credit or debit card information protected if a retailer has a data breach.


Use virtual cards when shopping online. Some banks, such as Citi and Capital One, offer an advanced safety feature called virtual credit cards. These are unique, temporary card numbers that stand in for your regular credit card credentials. Shopping with a virtual card is beneficial, because if your virtual card number is compromised, your credit card number will remain safe.


Don't shop on public Wi-Fi. Because public networks aren't secure, information that you enter on a public network can be intercepted by hackers. Therefore, only make purchases while using your home WiFi—or while using a virtual private network (VPN) if you're on the go.


 Stay alert when shopping in stores. Take these precautions when shopping at brick-and-mortar shops:  
Watch out for "shoulder surfers." If you must use an ATM, use your free hand to shield the keypad.


Park only in well-lit areas. Also, park as close to the store as possible.


Carry cash and wallets in a front pocket. This will reduce your chances of having your pocket picked.


Don't leave merchandise in plain view in your car. Keep shopping bags concealed by locking them in your trunk, so that your car isn't a target.
Enjoy the holidays!
We wish you a happy, safe holiday season!
Contact Us
Our Risk Coaches are licensed insurance professionals who are trained to look at coverage from your perspective. They're glad to help you navigate the often-perplexing world of insurance coverage. Contact your local Risk Coach™ professional or call us at  800.342.5342.
The information provided on this site is provided for informational purposes only and is not a full explanation of products, services, or coverage. For more information, please contact Electric Insurance Company at 800.227.2757. If there are discrepancies between the information on this site and the policy, the terms in the policy apply.
Electric Insurance Company Risk Coaches help you assess your current coverages and exposure to risk based on the information you provide during your discussion. The services provided are for informational purposes only and do not create a professional or fiduciary relationship. Incomplete information or a change in your circumstances after your meeting may affect coverage requirements or recommendations.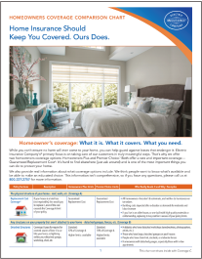 Home values are at an all-time high. Make sure you protect your investment in your home with sound coverage. This easy-to-understand coverage chart (PDF 2,600kb) helps you know what to get and why.