Whether you're planning a vacation or a trip to visit relatives this holiday season, keep in mind that an empty house is a tempting target for a burglar. You can reduce the possibility that your home will be broken into while you're gone if you use a common sense approach to keeping it safe:
Prepare your first line of defense. Use sturdy locks on all doors and windows and secure them before you leave. Repair any broken windows or locks. Never assume a burglar won't find the one that's faulty.
Don't broadcast your plans on social media or by word-of-mouth. However, do tell one neighbor or close friend your itinerary and your estimated time of arrival and return. That person should have a key to your front door to periodically check on the house, and a telephone number where you can be reached in an emergency.
Never let the house appear empty from the street. Stop your newspaper delivery, and have your neighbor pick up your mail and any packages left on the front porch. Arrange for someone to mow the lawn, rake leaves and clean the yard if you'll be away for an extended period. Ask your neighbor to place garbage cans at the curb on normal pickup days and put them back after the garbage pickup. If you leave your car at home, park it where you normally would. However, be sure your neighbor moves it occasionally so that it appears the car is being driven. If you're driving your car, have your neighbor periodically park in your driveway or in front of your house.
Your home shouldn't seem empty on the inside either. Plug in timers to turn lights and even a television on and off at appropriate times. Turn the ringer on your telephone down. If a burglar is around, and hears a call that goes unanswered, they'll know you're away. Don't leave a message on your answering machine notifying everyone you're on vacation. Leave your blinds, shades and curtains in a normal position. Don't close them unless you would normally do so while at home.
Don't give thieves alternate ways to enter your home. Lock garage doors and windows. You should also secure storage sheds, attic entrances and yard gates.
Don't leave valuables in plain sight. Consider locking valuables in a bank safety deposit box. If you do leave valuables at home, make sure they are engraved. This simple precaution will allow stolen property to be easily identified and returned to you if recovered later.
Consider the purchase of an alarm system to protect your home against fire and burglary if you travel away from home frequently or for extended periods of time.
Contact us
Our Risk Coaches are licensed insurance professionals who are trained to look at coverage from your perspective. They're glad to help you navigate the often-perplexing world of insurance coverage. Start a quote online, or call us at 800.342.5342, Monday through Friday, from 8:00 a.m. to 8:00 p.m. ET.
Product, service, program, credit, and discount availability and limits vary by state. The information provided on this site is provided for informational purposes only and is not a full explanation of products, services, or coverage. For more information, please contact Electric Insurance Company at 800.227.2757. If there are discrepancies between the information on this site and the policy, the terms in the policy apply.
Electric Insurance Company Risk Coaches help you assess your current coverages and exposure to risk based on the information you provide during your discussion with them. The services provided are for informational purposes only and do not create a professional or fiduciary relationship. Incomplete information or a change in your circumstances after your meeting may affect coverage requirements or recommendations.
Share this: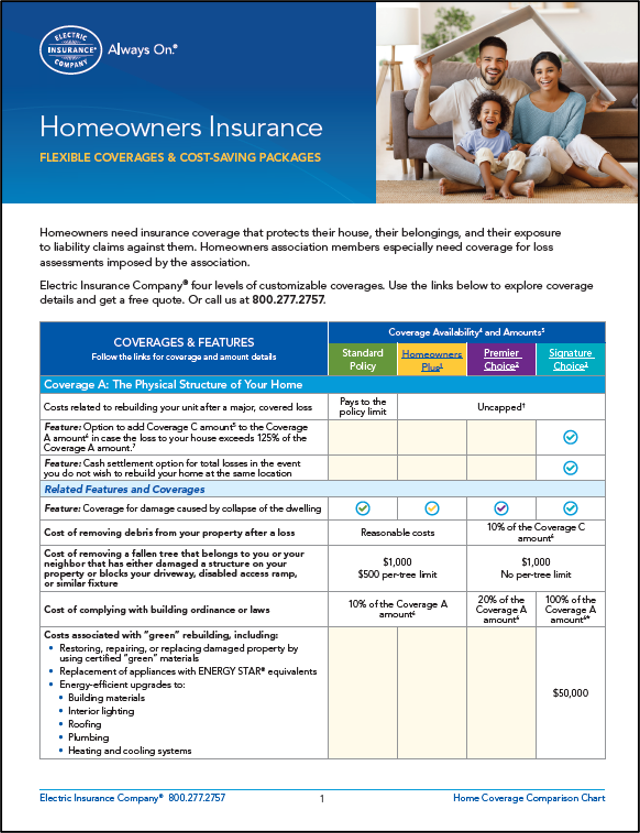 Home values are at an all-time high. Make sure you protect your investment in your home with sound coverage. This easy-to-understand coverage chart (PDF 820kb) helps you know what to get and why.