Summer House Closing
A Homeowners Checklist
Time to put the hammock away. It's that time of year again, when we need to pack up the vacation home and transition back to the primary residence. Having a home away from home is a wonderful way to escape and enjoy relaxing or spending time with family and friends. Make sure you take care of your investment by guarding it against potential problems during the months of vacancy.
Preparation Tips
There are a few important things to guard against when winterizing your summer home; most important are weather and pests. Protecting pipes from freezing weather, unplugging appliances, or removing items that bugs and mice can feast on all are important steps to take.
A few tips to consider:
Shutting off the water is often advisable. This reduces the risks of water leakage and damage. If the home is in an area prone to cold weather, make sure you drain the water lines and disconnect outdoor hoses to prevent them from freezing.


Electricity: you can keep your energy bills lower by unplugging all your appliances, including your water heater, while you're away.


Gas: turn off the gas supply to the house for safety.


Unplug all appliances, including the toaster, microwave, oven, washer, dryer, and all televisions and telephones, to guard against a lightning strike.


If you have a pool, consult with a professional who can winterize or provide ongoing care and maintenance.


Clean and protect mattresses and bedding by storing everything in waterproof and chew-proof coverings to keep out damp and rodents.


Empty food from the refrigerator, freezer, and cupboards, and give everything a good cleaning.


Store outdoor furniture and cushions, grills, hoses, and other accessories safely indoors.


Lock sheds, outdoor cabinets, and garage doors.


Lock all house windows, set the alarm (if applicable), and make sure all doors are locked and secure.


Clean and make a mental note as you close off each room, working your way to the front of the house.
Severe Weather Preparation
Hurricane or strong winds: consider installing shutters or boarding up the windows to prevent damage from high winds.


Freezing temperatures: install shutters and plastic over the windows indoors to help keep snow and ice out of your home.


Flooding: make sure you have flood insurance if in a flood zone, and install sensors that can alert you to any water issues inside the home.
Contact Us
Make sure you have the right insurance coverage for your vacation home as part of your preparations. That protection can give you the peace of mind to enjoy your vacation home and make more happy memories for years to come.
Our Risk Coaches™ are licensed insurance professionals who are trained to look at coverage from your perspective. They're glad to help you navigate the often-perplexing world of insurance coverage. Start a quote online, or call us at 800.352.5342  Monday through Friday, from 8:00 a.m. to 8:00 p.m. ET.
Product, service, program, credit, and discount availability and limits vary by state. The information provided on this site is provided for informational purposes only and is not a full explanation of products, services, or coverage. For more information, please contact Electric Insurance Company at 800.227.2757.
If there are discrepancies between the information on this site and the policy, the terms in the policy apply. Electric Insurance Company Risk Coaches help you assess your current coverages and exposure to risk based on the information you provide during your discussion with them. The services provided are for informational purposes only and do not create a professional or fiduciary relationship. Incomplete information or a change in your circumstances after your meeting may affect coverage requirements or recommendations.
Share this: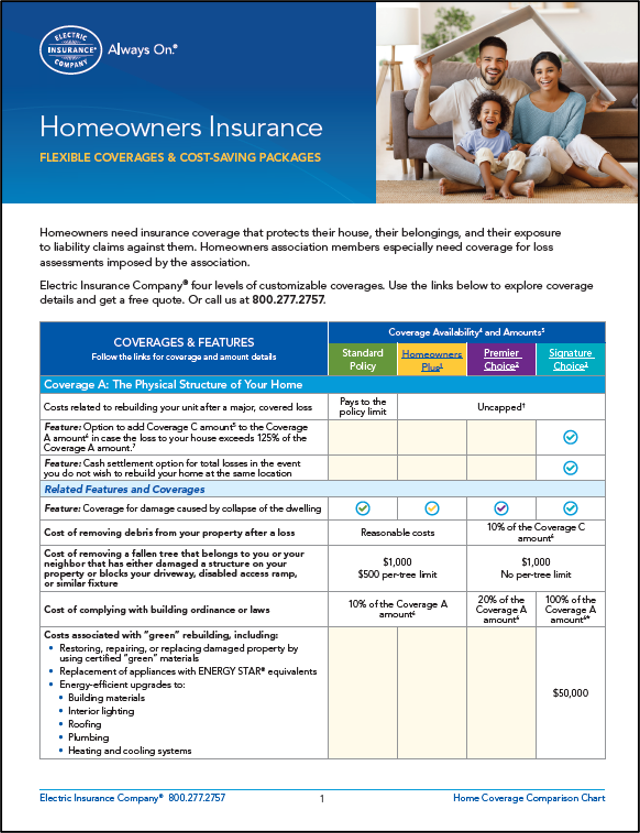 Home values are at an all-time high. Make sure you protect your investment in your home with sound coverage. This easy-to-understand coverage chart (PDF 820kb) helps you know what to get and why.