Winterizing Your Home
Preventing air leaks, slips, and more
When winter arrives, your home can get exposed to an onslaught of elements. From snow and ice to cold gusts of wind, winter weather often puts pressure on your house. A little preparation, though, can go a long way. These measures will keep your house warm, reduce your heating costs, and prevent accidents like falls on icy sidewalks.
Order an energy audit. Most U.S. households spend between $500 and $1,500 on winter energy bills, but bills can vary widely depending on how efficient your home's heating system is. One way to assess how much gas and electricity your house is consuming is to order a professional energy audit, where an inspector tests your home's HVAC system and offers customized tips on how to make your system more energy efficient. Energy audits typically cost between $207 and $679, depending on the size of your home—for a 1,200 square-foot house, expect to pay $100 to $150.


Check for drafts. Sealing air leaks is the best way to prevent hot air from escaping your home. You can do this by caulking and adding weather stripping around windows and door frames. The savings may be significant, since reducing drafts can cut your energy costs by up to 20% per year. Insulating your home's attic can also help; typically, professional attic insulation costs $1,500 to $3,500, but that's a good investment in the long term.


Keep pipes from freezing. Having a pipe freeze and burst is huge—and costly—headache. Depending on the extent of the damage, cleanup can cost tens of thousands of dollars. Want your pipes to withstand the cold? Insulate pipes in your attic and crawl spaces (exposed pipes are most susceptible to freezing) and keep some kitchen and bathroom cabinet doors open to allow warmer air to circulate around the plumbing. If you're going out of town, set the thermostat at no lower than 55° F to prevent pipes from freezing.


Clean out gutters and downspouts to prevent ice dams. If your gutters or downspouts get blocked, water can collect and freeze to form ice dams, which can then cause leaks and damage to your home. To prevent ice dams from forming, keep your gutters and roof clear of debris, such as leaves and bird's nests. Pro tip: use a gutter scoop—this nifty tool makes it easier to remove tough debris. You can find one for under $4 at Home Depot.


Protect yourself (and guests) from slips and falls. Icy ground outside your front door, on your sidewalks, or on your driveway can be treacherous—and it can lead to a major insurance claim if someone slips and gets injured on your property. It's a good idea to pretreat surfaces with a de-icing material such as salt or pet-safe substances prior to snowfall and afterwards as well to melt any ice formations. Always remove snow promptly after a storm.


Cut back tree branches. Heavy snow and ice, along with strong winds during a storm, can cause tree limbs to snap. So, take a close look at any trees that are near your home and see if they should be trimmed. If a tree is dead, it should be removed.


Keep critters out. When it gets cold outside, rodents and pests search for holes and crevasses to stay warm. Don't want these uninvited house guests? Inspect your home's exterior for any openings that animals could potentially use to enter your house.


Have your chimney inspected. To reduce the risk of fires, make sure that your chimney is in tip-top shape. A professional chimney inspection costs an average of about $360 to $400. Use a Chimney Safety Institute of America-certified chimney sweep.
Contact Us
Our Risk Coaches are licensed insurance professionals who are trained to look at coverage from your perspective. They're glad to help you navigate the often-perplexing world of insurance coverage. Contact your local Risk Coach™ professional or call us at  800.342.5342.
The information provided on this site is provided for informational purposes only and is not a full explanation of products, services, or coverage. For more information, please contact Electric Insurance Company at 800.227.2757. If there are discrepancies between the information on this site and the policy, the terms in the policy apply.
Electric Insurance Company Risk Coaches help you assess your current coverages and exposure to risk based on the information you provide during your discussion. The services provided are for informational purposes only and do not create a professional or fiduciary relationship. Incomplete information or a change in your circumstances after your meeting may affect coverage requirements or recommendations.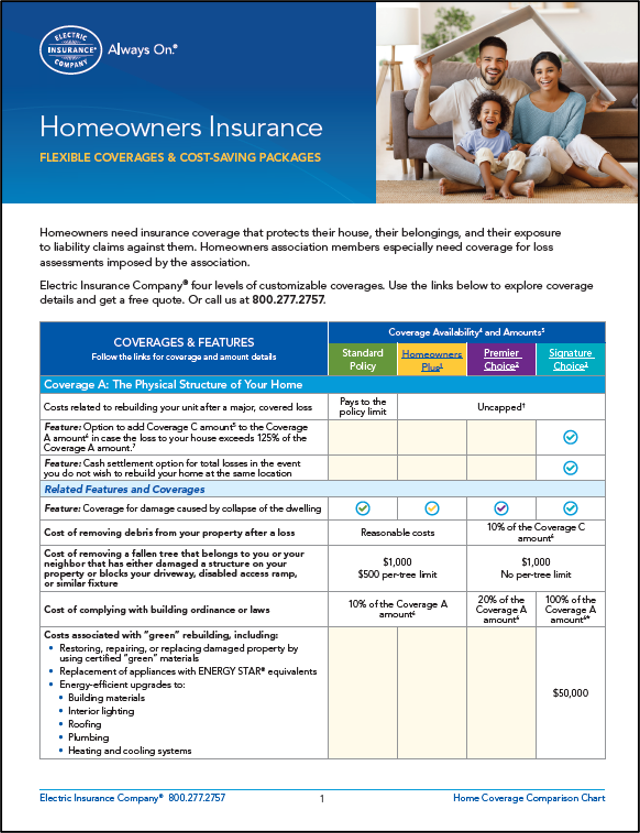 Home values are at an all-time high. Make sure you protect your investment in your home with sound coverage. This easy-to-understand coverage chart (PDF 820kb) helps you know what to get and why.