Winterize Your Swimming Pool
When the days become colder and floating around your pool starts to wind down, it's probably time for you to start thinking about winter.
Winterizing your pool is not only a good idea, but it can save a lot of money and headaches too. Pools are complex, and having a sound maintenance program in place is important. Whether you have an above-ground or an in-ground pool, there are several things you should do before cold weather sets in.
Below are some helpful tips to winterize your pool and prevent costly repairs or filing a claim against your homeowner's insurance:
Have it thoroughly cleaned. Vacuuming, skimming debris, brushing the sides and bottom, and balancing all treatment chemicals are essential.


Drain the filter and the pump. Clean, backwash, and blow out all water lines. This will help reduce cracking or damage caused by freezing. These pieces are typically very expensive to replace.


Drain water slightly. The water level of your pool is the most important thing to think about during the winter months. Drain the water to 3" to 6" below the skimmer and jets so no water can enter and cause damage in freezing temperatures.


Purchase protective automatic covers. These covers offer great benefits because they're easy to open and close on an automated track, they keep the water heated, and they prevent debris, animals, or children from getting into the pool. But if the pool isn't properly winterized, the weight of water, ice, or snow on the cover can cause costly damage.


Add winterizing chemicals. This will help deter freezing and help control algae growth while the cover is on the pool.


Remove and store accessories. Remove ladders, skimmer baskets, poles, nets, or pool toys, and store them away until springtime. Freezing temperatures can damage plastic, resulting in costly replacement of accessories. We recommend that you work with a local pool company to ensure your pool is winterized properly, keeping it beautiful, functional and most importantly safe for many years to come.
Contact Us
Double-check your homeowners insurance policy to be sure you have adequate coverage for all your belongings and property. Your insurance should cover replacement costs for both the building and the contents. In the case of pools, triple-check the liability coverage amount for injuries to visitors or guests and damage to other people's property to be sure it is adequate.
Our Risk Coaches™ are licensed insurance professionals who are trained to look at coverage from your perspective. They're glad to help you navigate the often-perplexing world of insurance coverage. Contact your local Risk Coach professional, or call us at 800.342.5342, Monday through Friday from 8:00 a.m. to 8:00 p.m. ET.
Product, service, program, credit, and discount availability and limits vary by state. The information provided on this site is provided for informational purposes only and is not a full explanation of products, services, or coverage. For more information, please contact Electric Insurance Company at 800.227.2757. If there are discrepancies between the information on this site and the policy, the terms in the policy apply.
Electric Insurance Company Risk Coaches help you assess your current coverages and exposure to risk based on the information you provide during your discussion with them. The services provided are for informational purposes only and do not create a professional or fiduciary relationship. Incomplete information or a change in your circumstances after your meeting may affect coverage requirements or recommendations.
Share this: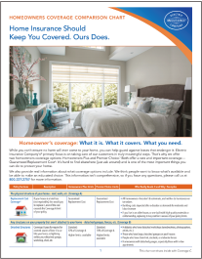 Home values are at an all-time high. Make sure you protect your investment in your home with sound coverage. This easy-to-understand coverage chart (PDF 2,600kb) helps you know what to get and why.