Winter Is Coming
Make Sure Your Home Is Winter-Ready
It's that dreaded time of year again. We are putting away our beach chairs and warm-weather clothes and replacing them with snow shovels and winter gloves. Winterizing your home should also be a top priority on your fall list of things to do. Reduce the risks of insurance losses during the colder months by completing some preventive indoor and outdoor home maintenance this fall.
Make sure your home is prepared for the colder weather with the following maintenance tips.
Outdoors
Clear leaves, sticks, and debris from gutters and downspouts. Doing so will allow water to flow properly, which will greatly reduce the likelihood of ice dams forming.


Make sure trees and shrubs are free of dead branches. Heavy snow and ice along with strong winds can cause them to break during a winter storm and become a hazard to your family, home, and vehicle.


Remove all attached garden hoses, drain the pipes, and shut off the valves to each of the outdoor faucets.


Inspect your home for openings that animals could use to enter.


Check weather stripping and insulation around exterior doors and windows to be sure they'll prevent water and ice entering through the openings.
Indoors
Identify the location of the main water shutoff in your home, and make sure you know how it works. If your pipes freeze, you can prevent them from bursting if you are able to shut off the water before substantial damage occurs.
Your heating system should be serviced annually to make sure it is working properly. Don't wait until the cold weather arrives; you don't want to be left without heat when you need it!


Protect against frozen pipes by insulating those that might be susceptible to freezing.


Have your chimney inspected and cleaned annually by a Chimney Safety Institute of America-certified chimney sweep.


Make sure that all smoke, carbon monoxide, and fire alarms are working properly, and the batteries are replaced.
These simple fall home maintenance tips can help prevent the headaches that come with winter weather. Make sure you are protecting everything you have worked so hard for. If you have concerns or specific questions about your homeowners policy, please contact one of our professionals, who can provide guidance and make sure you are covered properly.
Contact Us
Our Risk Coaches™ are licensed insurance professionals who are trained to look at coverage from your perspective. They're glad to help you navigate the often-perplexing world of insurance coverage. Contact your local Risk Coach professional, or call us at 800.342.5342, Monday through Friday from 8:00 a.m. to 8:00 p.m. ET.
Product, service, program, credit, and discount availability and limits vary by state. The information provided on this site is provided for informational purposes only and is not a full explanation of products, services, or coverage. For more information, please contact Electric Insurance Company at 800.227.2757. If there are discrepancies between the information on this site and the policy, the terms in the policy apply.
Electric Insurance Company Risk Coaches help you assess your current coverages and exposure to risk based on the information you provide during your discussion with them. The services provided are for informational purposes only and do not create a professional or fiduciary relationship. Incomplete information or a change in your circumstances after your meeting may affect coverage requirements or recommendations.
Share this: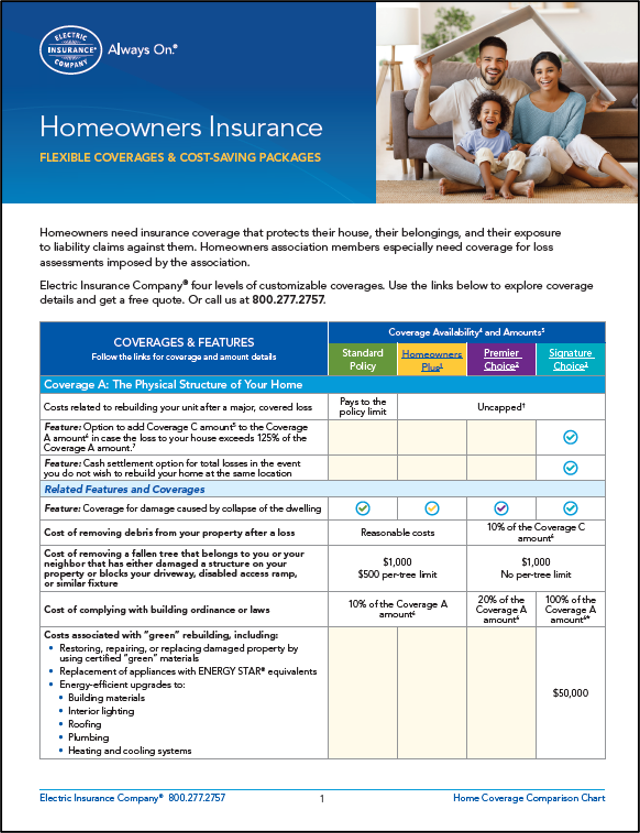 Home values are at an all-time high. Make sure you protect your investment in your home with sound coverage. This easy-to-understand coverage chart (PDF 861kb) helps you know what to get and why.