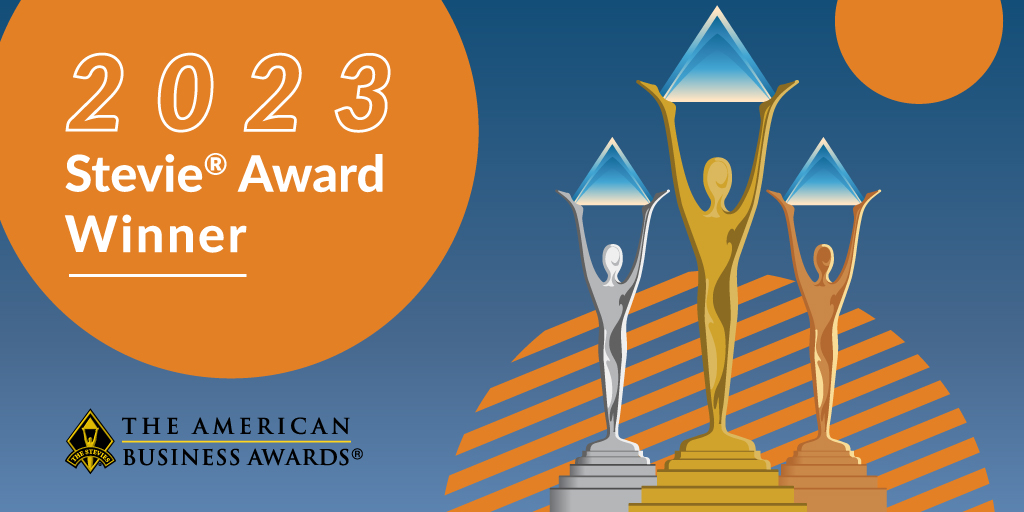 Customer Service Team of the Year: Agency Services
Beverly, MA — May 10, 2023 — At a ceremony on April 26, 2023, for the fifth consecutive year, Electric Insurance Company® was named a winner in the American Business Awards® competition. The company was awarded the rare distinction of receiving two Gold Stevies® ― one for Customer Service Team of the Year and the other for Customer Service Department of the Year.
Nicknamed the "Stevies" for the Greek word meaning "crowned," the American Business Awards are the U.S.'s premier business awards program. More than 3,700 nominations from organizations of all sizes and in virtually every industry were evaluated by an international team of more than 230 judges.
Customer Service Team Department of the Year: Agency Services
The Agency Services team is a four-person support unit dedicated to helping our independent agency and broker partners succeed. This team provides world-class service, helping business partners navigate the intricacies of increasingly complex systems, products, underwriting, and state compliance requirements.
Lean Kaizen
The team held a two-week, multidisciplinary lean Kaizen event focused on identifying process improvement opportunities, developing solutions, establishing KPIs, and setting goals. Associates also took additional professional training and earned a senior level of underwriting authority, which allows them to greatly expedite decision-making and help clients close business much more quickly. The result: unparalleled expertise coupled with phenomenal service — a winning combination for our business partners.
"I just can't say enough how great it is to have a relationship with your team and to be able to count on them to help us through any situation. We truly appreciate it." – B.H.
Partner-Based Goals
In 2022, the team's range of responsibilities increased greatly. It onboarded two national brokerages (encompassing 160 client organizations in total) and seven independent agencies while still supporting 1,282 existing appointed agencies. Associates handled an impressive amount of volume:
Conducted in-depth product and administration system training for 222 agents
Provided account management and technical support for 19,000 policies
Instituted underwriting support and risk management to successfully handle 3,052 calls and 1,300 online transactions
Concluded 22,000 transactions with agents and brokers
I just wanted to give you some feedback about our agency's appreciation of Bill Reilly up in Agency Services. He is one of the best that we work with among all of our carriers. He is consistently generous with his time and always makes a great effort to help our staff." – M.M.
Impressive Year-Over-Year Gains
25% gain in speed-to-answer
9% improvement in service levels
33% reduction in request handle time
Even more impressive, the team managed to exceed the service level goal and agent/broker expectations while a new policy administration system was implemented.
Judges' Comments
"Some very remarkable improvements to key performance indicators. Great work!"
"Impressive initiatives by the customer service team, including the lean Kaizen event and improved KPIs. Great results! Well done!"
"Electric Insurance Company is a positive company because the team enjoys and takes advantage of opportunities for improvement, which results in improved KPIs and successful training."
2022 Summary: Significant Improvements for Our Partners and Their Customers
Agency Services' "Always On.®" team ethos ensures a quality of service that gives agents and brokers confidence their accounts are well managed, helping them ensure their own customers' satisfaction and freeing them up to pursue new business opportunities.
"I just wanted to let you know that I had a great experience with Jaclyn McCarthy. She went above and beyond to help me, and I appreciate her and Electric. These days we don't see this much attention, empathy, or assistance from many carriers or underwriters." – D.A.
About Electric Insurance Company
Electric Insurance Company is a national writer of personal insurance products, including auto, homeowners, renters, condo, and umbrella. Established in 1966 to serve the needs of General Electric employees, the company has since expanded its offerings to the general public. Electric Insurance has the solid foundation required to offer its policyholders high-quality products, competitive rates, and world-class customer service now and in the future.
About the Stevie Awards
Stevie Awards are conferred in eight programs: the Asia-Pacific Stevie Awards, the German Stevie Awards, the Middle East & North Africa Stevie Awards, The American Business Awards®, The International Business Awards®, the Stevie Awards for Women in Business, the Stevie Awards for Great Employers, and the Stevie Awards for Sales & Customer Service. Stevie Awards competitions receive more than 12,000 entries each year from organizations in more than 70 nations. Honoring organizations of all types and sizes, and the people behind them, the Stevies recognize outstanding performances in the workplace worldwide. Learn more about the Stevie Awards at StevieAwards.com.
Sponsors of The 2023 American Business Awards include HCL America, Melissa Sones Consulting, and SoftPro.
On
800.342.5342