Your home is an excellent target for life's "gotchas"
Our Premier Choice homeowners policy is a robust package of key coverages and extended limits that help you prepare for a wide array of unpleasant (and expensive) surprises. Unless you've been living a media-free existence, you're aware that widespread serious weather events are an established trend. And so are issues caused by a tough economy. There are major implications for you as a homeowner. 
Five things to think about:
Costs to repair and rebuild extensively damaged homes are climbing. Building materials and labor are frequently in heavy demand across the country, driving up costs for everyone.


Costs for consumer goods are rising quickly; it would likely cost you much more to replace your current belongings than it did to buy them.


States are establishing stricter building codes, which usually require more expensive materials and construction methods.


All kinds of theft, including ID fraud, are steadily increasing.


Lawsuits have expanded to include social medial activity.
How Premier Choice lets you plan for them:
Guaranteed Replacement Cost Coverage pays to replace the cost of your house if it is a total loss (not repairable) even if the cost to do so exceeds the Coverage A limit of your policy. Guaranteed replacement cost coverage is one of the hardest-to-find coverages in the insurance industry.


Enhanced Personal Property/Contents Coverage pays up to 75% of your Coverage A limit for losses to your personal property and includes Replacement Cost Loss Settlement – that means that no depreciation applies to your claims settlement.


Coverage for Ordinances or Laws that force you to incur increased repair costs when you are subject to the enforcement of any ordinance or law that regulates construction, demolition, renovation, or repair.


Disaster Identity Recovery Services are included in the 12 specialty restoration and recovery services in our Identity Fraud Expense Recovery & Restoration Services program. Specialists quickly recapture destroyed documentation you'd need to rebuild your life, help ensure uninterrupted access to your financial institutions, and facilitate communication with your family, friends, and providers.1


Personal Injury Protection (This is where "sticks and stones" comes in.) is simply something everyone should have. In fact, insurers generally require you to have this coverage before you can purchase an umbrella (excess liability policy). It covers your liability to others for costs related to a liability suit arising from libel, slander, invasion of privacy, etc.
Thorough. Flexible. Smart.
Premier Choice covers a great deal more than just the five coverages listed above. In fact, it has 18 more coverages and 19 higher coverage amounts than our basic homeowners policy. Those give it excellent range and serious depth of coverage.
Actual Value Coverage endorsements allow you to schedule individual items for a value based on a third-party appraisal of the property.


Agreed-Value Coverage endorsements insure property for an amount based on an appraisal of the property that is then mutually agreed upon by you and Electric Insurance; this coverage is very useful for excluding individual items from a Blanket endorsement in order to provide a higher rate of coverage.


Blanket Coverage endorsements cover classes of personal property – for example, collections – rather than individual pieces, and claims are settled on an actual cash value (ACV) basis.
18 Additional Coverages
Enhanced Coverage for Personal Property Replacement (The Replacement Cost Loss Settlement provision means that no depreciation applies to your claims settlement.)


Damage caused by water or sewage backing up into your home, or from a malfunctioning sump pump.


Personal injury (e.g. accidental libel or slander)


Expenses related to identity theft  


Liability coverage for volunteer positions


Your business data


Lock replacement


Spoilage of refrigerated foods


Your incidental business


Loss assessment association deductible


Electronic apparatus and accessories (primarily used for business) that are in or upon your vehicle


Electronic apparatus and accessories that are in or upon your vehicle


Restoration of land after a major loss


Your jewelry, silver, and/or securities you store in a bank vault.


Extra expenses you may incur as a mortgage that result from a major loss to your home.


Personal Computer Data Re-creation


Police Department Service Charge


Reward Coverage
19 Higher Coverage Limits:
Your personal property - the contents of your home


Accidental damage to property owned by another person


Medical payments you may owe if another person is injured on property


Stolen jewelry, watches and furs (that are not scheduled items)


Stolen silverware


Stolen firearms


Business property in your home 


Stolen credit cards, electronic funds transfer (e.g. ATM) cards 


Removal of damage-related debris from your property


Fire Department service charge


Your incidental business


Loss assessment by a homeowners association 


Money (that is not scheduled )


Additional costs you incur rebuild or repair your home to meet local ordinance or law 


Damage to your trees, shrubs and other plants


Theft of valuable papers and securities


Liability related to your outboard watercraft 


Damage or theft of your watercraft and its trailer.


Damage or theft of utility trailers not used with watercraft
Contact us
Our Risk Coaches™ are licensed insurance professionals who are trained to look at coverage from your perspective. They're glad to help you navigate the often-perplexing world of insurance coverage. Call us at  800.342.5342 Monday through Friday, from 8:00 a.m. to 8:00 p.m. ET.
*This page offers a brief description of insurance coverage and/or related services offered by Electric Insurance Company and is provided for informational purposes only. Guaranteed replacement cost coverage is available with endorsement packages; exceptions may apply to certain features of the structure; applicants must meet underwriting requirements in order to qualify. For exact coverage provisions, availability, terms, limitations, and exclusions, please contact Electric Insurance Company at 800.342.5342. In the event there are discrepancies between this information and the policy, the terms of policy apply.
Product, service, program, credit, and discount availability and limits vary by state. The information provided on this site is provided for informational purposes only and is not a full explanation of products, services or coverage.
1 Identity Management Services are powered by CyberScout™; terms and conditions apply.
Share this: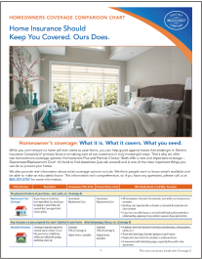 We think people want to make educated choices, so we provide real information (PDF 2,600kb) for real situations.