Premier Choice for Condominium Unit Owners 
Thirteen more coverages and 18 higher coverage amounts than a standard condo policy.
Condominium unit owners have seen a multifold increase in the value of their investment in their property in just a few years. If you're conscious of the value of your investment in your condominium and the cost of rebuilding the interior if needed, Premier Choice Condo may be your best investment yet.
It goes far beyond a standard condominium policy. Premier Choice Condo adds more than a dozen coverages and 18 higher coverage amounts to a standard policy.
HOA Member Coverages
HOA member association deductible assessments
5 Key Coverage Upgrades
Payment for rebuilding your condo after a major loss: extended
Coverage for the cost of removing debris created by damage to your property
Payment for replacing your damaged or destroyed personal property with new items
Payment toward cleaning/repairs if your water or sewer pipe backs up into your unit or storage area or if your sump pump fails
Coverage for liability claims and lawsuits against you
Higher Coverage for Specialty Items and Circumstances
Theft of money and precious metals from your household
Loss costs related to credit cards, EFT cards/access devices, and more
Theft and/or disappearance of jewelry, precious/semiprecious stones, watches, and furs
Theft and/or disappearance of silverware and other valuable metal ware
Reimbursing another person if you accidentally damage their property
Valuable papers and securities
Theft and/or mysterious disappearance of firearms
Great for Etsy, eBay, and Shopify Sellers
Are you one of the millions of people who who have a small side business? If so, you'll benefit from these coverages.
Loss to your business property
Safety & Security Reimbursements
Identity fraud expenses and restoration services
Police department service charges
Fire department service charges
Good News for Watercraft Enthusiasts
Premier Choice Condo provides up to $1,500 of coverage for theft of or damage to watercraft (such as WaveRunners® and JetSkis®) and watercraft trailers, furnishings, equipment, and outboard engines and motors while they're stored on the property in an enclosed building.
Premier Choice Condo also extends liability coverage for condo owners operating outboard motor boats up to 25 horsepower.
Additional Coverages
Your electronics while they're in a vehicle
Jewelry, silver, and securities stored in a bank vault
Extra mortgage expenses after a total loss
Personal computer data re-creation
Take the Risk Coach™ Approach
A 2022 survey found that 96% of survey respondents misunderstood at least one important feature of their auto coverage. More than half misunderstood several. We want better than that for our clients. When you work with our Risk Coaches, you'll work with a licensed insurance professional who'll help you get the right coverage at the best price.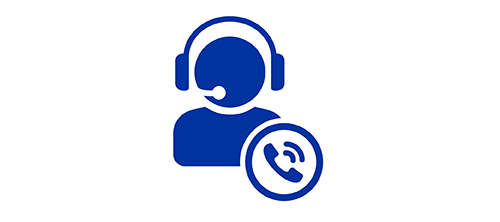 Call or Use Chat to Contact a Risk Coach
For a no-cost and no-obligation-to-buy coverage-needs assessment, use the chat feature on this page or call us. Our Risk are glad to help you navigate the complex world of homeowners insurance coverage.
Call us at 800.342.5342, Monday through Friday, from 8:00 a.m. to 8:00 p.m. ET.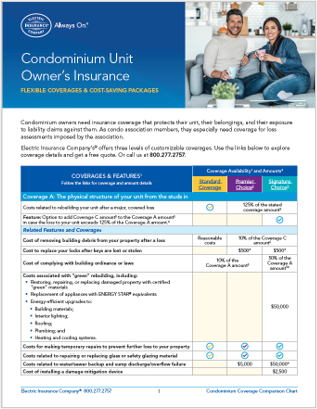 Condo values are at an all-time high. Make sure you protect your investment in yours with sound coverage. This easy-to-understand coverage chart (PDF 678kb) helps you know what to get and why.