American homeowners spend about $1,105 on home maintenance each year and an average of $1,206 on emergency repairs. But more than 31% haven't budgeted for those costs. That potentially puts them in a financial bind; a recent study found that only about 60% of us have enough savings to cover an unexpected $1,000 expense.
A big surprise bill is bad enough. There are also expensive, long-term consequences to avoiding home repair; neglecting home upkeep can knock off as much as 20% of your home's value. Good maintenance does the opposite; following a regular maintenance schedule can add about 1% to your home's value each year.
What to do
Open an account dedicated to maintenance costs. If the funds aren't co-mingled with your other accounts, you are much less likely to raid them to pay for other things, leaving you without the means to pay for needed maintenance and repairs.
Four ways to fund your account
Save a flat amount. Put aside an affordable lump sum each month. This method has drawbacks, however, as it does not consider some important factors (see below).
Base the amount you save each month on the cost of your house. Earmark 1% to 4% of your home's purchase cost for savings toward maintenance and repairs. This method is a bit more realistic than an arbitrary lump sum, as the purchase cost of your house is more reflective of the cost of materials and labor in your area. However, home costs can fluctuate considerably over time and the cost of your home when it was purchased may not be reflective of its current market value or condition.
Calculate 10% of the total annual cost of your mortgage, property taxes, and home insurance payments. One expert believes this is the least you should plan to save. As an example, if the combination of those three expenses totals $2,500, plan to save about $208 each month for future maintenance and repairs.
Use the "square foot" method. Consider saving $1 per square foot of your home annually. If your house is 1,800 square feet, aim to save $1,800 per year. Keep in mind, though, that you should still consider the amount of annual wear and tear on your house and the cost of materials and labor in your location. The cost to repair/maintain a home in suburban Ohio may be very different from the cost of repairing/maintaining the same size house in New York.
What to factor in
When adjusting any of the above methods to your own circumstances, think about how the following affects your home and adjust your budget plan accordingly. The amount you put away will vary based on your finances and income, but there are a few key factors to consider.
Age of home. The age of your home, especially of its roof and plumbing, can play a big role in maintenance and repair expenses. For example, asphalt shingle roofs – the most common type of roof – usually have a 20-to-25-year warranty. The average national cost to replace a roof is about $7,875; most homeowners pay between $5,347 and $10,638. If you live in or near a major metropolitan area such as Boston, Chicago, or Denver, you can expect to pay more. If you will have to replace your roof in a few years, start saving now.
Location of home. Not only do labor costs vary by location but so do the amount and type of wear and tear on your house. Cold-weather climates can pummel your house with snow, sleet, and hail. Homes in warm and/or humid climates may be subject to termites and other types of pest infestation that can wreak serious damage on the support structure of your house. Make a realistic assessment of the environmental stresses on your house and the maintenance required to offset them when you determine how much to set aside.
Condition. What kind of condition is your home in? Do you anticipate having to make a lot of repairs over the next few years?
Lifespan of major systems. Will you have to replace your roof soon? How old are the seals around your plumbing fixtures? As they age, they can become brittle and may start leaking. What about the age of your wiring and heating systems? Budget at least enough for annual inspections and maintenance.
Major structural elements. Beyond your roof, your home has components that can be expensive to repair. When contemplating your repair/maintenance budget, consider the condition of your foundation, siding, and HVAC system. How many years' functional life do they have before they need major work?
Where to put the money
Your best bet is to keep the money relatively liquid so you can get to it quickly. Tying it up in long-term bonds, for example, could backfire. Some experts suggest investing in an online savings account, as the money remains liquid and the account may offer a higher interest rate than brick-and-mortar institutions. The most important thing to consider is your ability to use the funds quickly in case of emergency.
Automate contributions
Does your employer use an automatic deposit payroll system that sends your paycheck to an account of your choice? If so, set up a separate savings account for home repairs and allocate a percentage of your paycheck to that account. If automatic payroll deduction doesn't work for you, put a periodic reminder on your calendar to transfer money from your standard account to the home maintenance account. An online transfer takes only a few minutes after you set it up the first time.
Planning ahead
Staying on top of the inevitable home maintenance issues can save you from larger repair expenses and the devaluation of your property that results from it being in a poor state of repair. Make sure you budget enough to take care of what is usually the biggest investment you will ever make – your home.
Contact Us
Our Risk Coaches™ are licensed insurance professionals who are trained to look at coverage from your perspective. They're glad to help you navigate the often-perplexing world of insurance coverage. Contact your local Risk Coach professional or call us at 800.342.5342, Monday through Friday from 8:00 a.m. to 8:00 p.m. ET.
Product, service, program, credit, and discount availability and limits vary by state. The information provided on this site is provided for informational purposes only and is not a full explanation of products, services, or coverage. For more information, please contact Electric Insurance Company at 800.227.2757. If there are discrepancies between the information on this site and the policy, the terms in the policy apply.


 
Electric Insurance Company Risk Coaches help you assess your current coverages and exposure to risk based on the information you provide during your discussion. The services provided are for informational purposes only and do not create a professional or fiduciary relationship. Incomplete information or a change in your circumstances after your meeting may affect coverage requirements or recommendations.
Share this: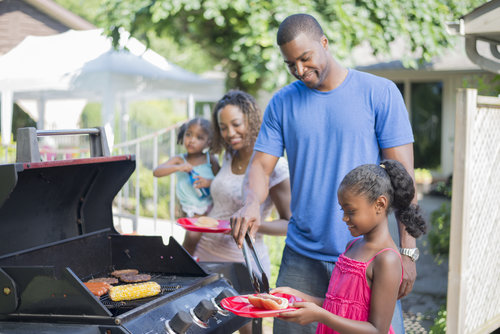 Do you have the right coverage for your type of home?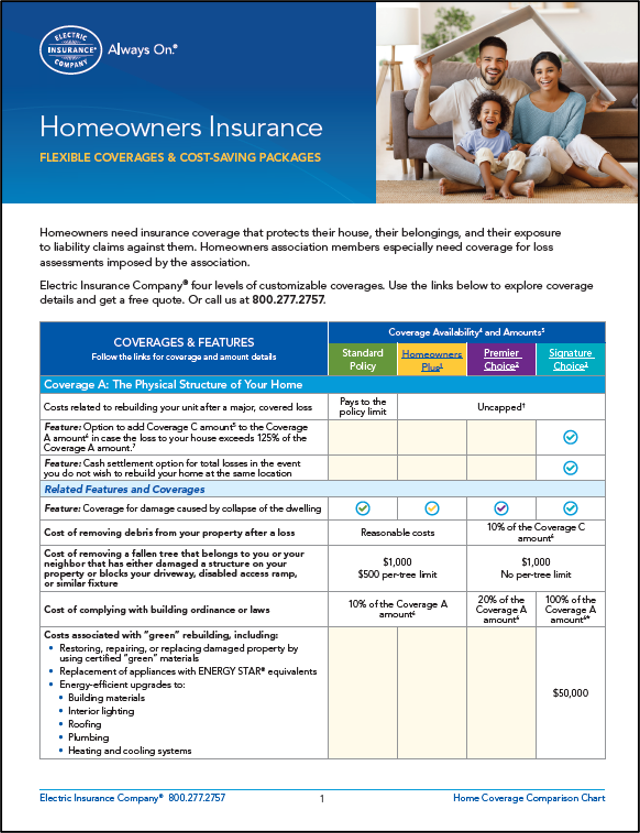 Home values are at an all-time high. Make sure you protect your investment in your home with sound coverage. This easy-to-understand coverage chart (PDF 820kb) helps you know what to get and why.