How to Prepare Your Home for a Hurricane
It's shaping up to be a busy hurricane season this year, with 14-18 named storms expected.
That comes on the heels of last year's heavy hurricane season, when Hurricanes Fiona, Ian, and Nicole did more than $22 billion dollars in damage to homes. 
You don't want your house to be one of them.
Hurricane season runs from June to November. Take these steps to get your home ready.
De-clutter gutters. Gutters are designed to direct water from your roof away from your home's foundation or other vulnerable areas. But leaves, twigs, and other debris can clog gutters, which can cause water to back up during a hurricane—and that water has the potential to damage your roof, leak inside your home, and collect around your home's foundation. Therefore, make a point of cleaning your gutters at least twice a year, including before hurricane season.
If you feel comfortable doing so, inspect and clean out your house's gutters and drains using a garden trowel, taking care to wear protective eyewear and thick gloves. Or, you can pay for professional gutter cleaning, which costs between $118 and $226 on average, depending on factors like how many stories your home has and the condition your gutters are in.
Install a French drain. If your home has a basement, installing a French drain may be a good idea. A French drain, also called a rock drain, will help prevent your basement from flooding by redirecting groundwater away from your house. It costs, on average, $5,000, or $10 to $50 per linear foot, to install.
Remove dead trees and prune nearby branches. Healthy trees can usually withstand strong winds, but rotted or weak trees are hazardous as their limbs are more likely to snap off during a hurricane. So, before hurricane season make sure to cut down diseased trees.
Pruning trees that are near your home also reduces the risk of a limb striking your house during a hurricane. Professional tree trimming costs an average of $200 to $760, depending on the number of trees and their height.
Stow away potential projectiles from your yard. Before a hurricane strikes, bring in flags, garden sculptures, wind chimes, potted plants, outdoor furniture, lawn mowing equipment, grills, and pool cover. These items can become dangerous projectiles during heavy winds. If you have a shed, make sure its doors are closed tightly so they don't blow off their hinges.
Cover windows and doors. Glass windows and doors can shatter during a hurricane and cause physical injury. Make sure windows and doors are locked in place and protected by using storm shutters or nailing plywood panels to the outside window frames. All exterior doors should have at least three hinges and a dead bolt lock that's 0.75 inches to one inch long.
Turn off the power, gas, and water lines. If time permits, turn off your home's electricity (using the circuit breaker) and gas, and shut off the main water valve. These measures will reduce the risk of electrocution and flooding during a hurricane.
Contact Us
Our Risk Coaches™ are standing by to help you supplement protection for you home with flood insurance from the federal government's National Flood Insurance Program (NFIP) or private insurance companies. We'll help you get the right coverage for your home and its contents. Call us at 800.373.5793, Monday through Friday from 8:00 a.m. to 8:00 p.m. ET for a free quote.
Product, service, program, credit, and discount availability and limits vary by state. The information provided on this site is provided for informational purposes only and is not a full explanation of products, services, or coverage. For more information, please contact Electric Insurance Company at 800.227.2757. If there are discrepancies between the information on this site and the policy, the terms in the policy apply.
Electric Insurance Company Risk Coaches help you assess your current coverages and exposure to risk based on the information you provide during your discussion. The services provided are for informational purposes only and do not create a professional or fiduciary relationship. Incomplete information or a change in your circumstances after your meeting may affect coverage requirements or recommendations.
Share this:
Do you have the right coverage?
There are six key "Gaps and Gotchas" in a standard homeowners policy
1. Outdated rebuilding coverage amount
2. Your policy's co-insurance clause
4. Flood water
5. Water/Sewage backing up into your home
6. The default valuation method for personal property claims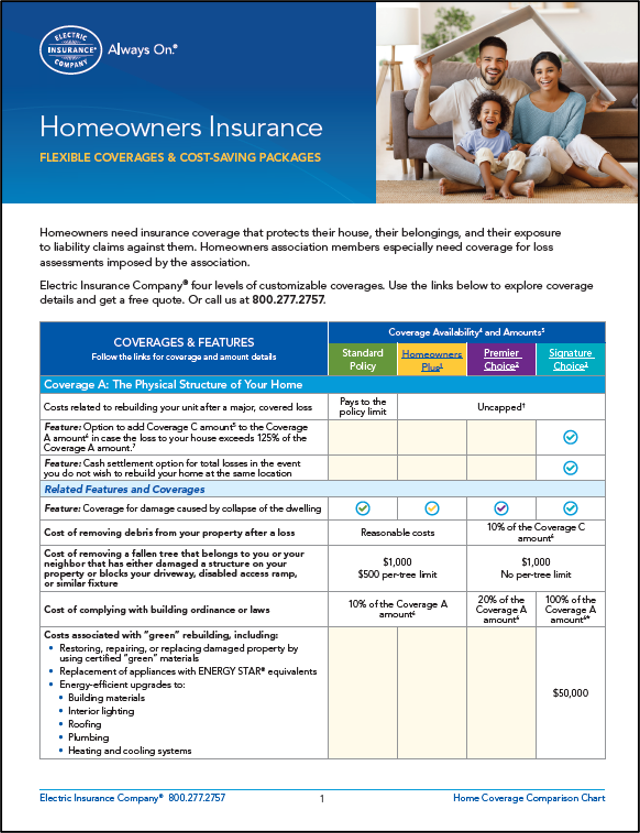 Home values are at an all-time high. Make sure you protect your investment in your home with sound coverage. This easy-to-understand coverage chart (PDF 820kb) helps you know what to get and why.