Beware This Homeowners "Gotcha"
Your personal property ranges from the strictly practical (e.g., your lawn mower) to perhaps a few luxuries, such as a leather couch. You generally want, need, and maybe even love your stuff. If anything were to damage or destroy your belongings, you'd want the quality of the replacements to be just as good as that of the originals. After all, that's why you have insurance, right?
Not So Fast
There's a big "gotcha" provision in most home, condo, and renters policies. Standard insurance pays personal property claims on an "actual cash value" basis. When you file a claim, your damaged or destroyed property is compared against a "schedule of depreciation" to determine its value at the time of the loss.
This applies even if your property (e.g., your furniture) is in excellent condition, with many more years of functional life. The amount of your claim settlement will be the depreciated value of your damaged/destroyed property minus the policy deductible.
That means you'd have to pay the difference out of pocket to replacing you property with new versions. 
That's not likely what you envisioned.
Replacement Cost Coverage
Our convenient, cost-saving coverage packages pay the actual cost to replace the stolen/damaged/destroyed property with new versions of the same type and quality. It's a key feature of our Homeowners Plus, Premier Choice Home, and Signature Choice Home, and Premier Choice Condo, Signature Choice Condo, and renters policies.
Take the Risk Coach™ Approach
A 2022 survey found that 96% of survey respondents misunderstood at least one important feature of their insurance coverage. More than half misunderstood several. We want better than that for our clients. When you work with one of our Risk Coaches, you'll work with a licensed insurance professional who'll help you get the right coverage at the best price.
Call or Use Chat to Contact a Risk Coach
Use the chat feature on this page or call us for a no-cost, no-obligation-to-buy quote for a policy with Replacement Cost Coverage. Our Risk Coaches are glad to help you navigate the complex world of car insurance to get the right coverage for your needs. Call us at 800.342.5342, Monday through Friday from 8:00 a.m. to 8:00 p.m. ET
Share this: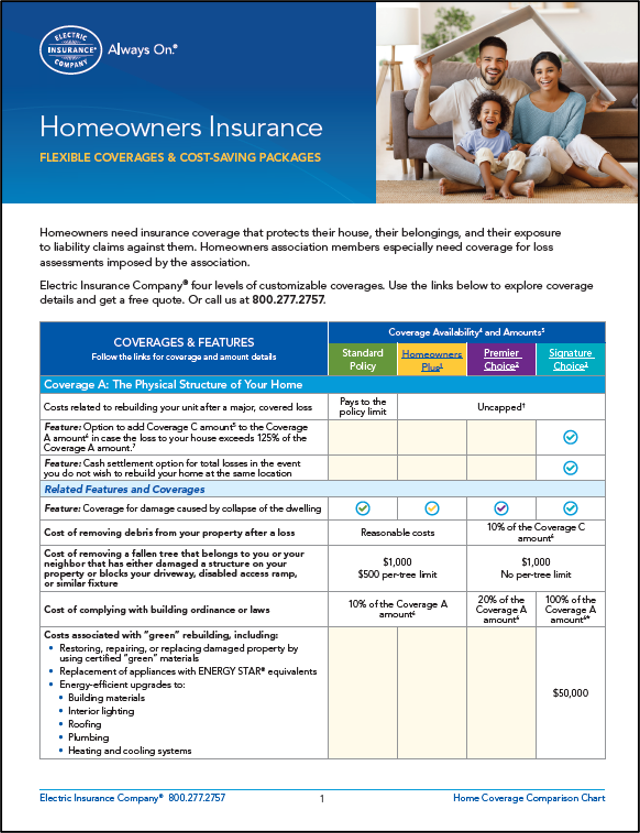 Home values are at an all-time high. Make sure you protect your investment in your home with sound coverage. This easy-to-understand coverage chart (PDF 820kb) helps you know what to get and why.