Standard Condo Unit Insurance
Condos are great. You get many of the benefits of homeownership, usually at a lower cost and reduced level of upkeep. You even get to share some of the expenses — and risks — with your fellow owners.
But some things are entirely your responsibility. You must protect your personal belongings and your liability for people getting hurt — and even the building materials used to finish your unit.
Condo Unit Coverages
Condo Owners Association Loss Assessment cost
Coverage A:  The physical structure of your unit and permanent furnishings
Coverage C:  Your personal belongings
Coverage D:  Additional living expenses
Coverage E:  Personal Liability
Coverage F:  Medical payments to others
Additional Coverages 
Reimbursement for compliance with a building ordinance or law.
Reimbursement for fire department service charges
Coverage for grave markers and mausoleums
Costs related to removal of debris and trees
Payment for damage to or loss of trees, shrubs, and other plants
Coverage for electronics in/on a motor vehicle
Coverage for Specialty Items and Circumstances
Payment for loss costs related to credit cards, EFT cards/access devices, and more
Theft of money and precious metals from your household
Theft of firearms and related equipment
Theft of jewelry, precious/semiprecious stones, watches, and furs
Theft of silverware and other valuable metal ware
Valuable papers and securities
Payment for reimbursing another person if you accidentally damage their property
Watercraft and utility trailers
For Etsy, Small eBay, or Shopify Sellers and Occasional Freelancers
Coverage for your incidental business
Coverage for loss to your business property
Five Things That Could Be Better
A standard condo policy provides basic coverage only and has what we call "gaps and gotchas." Here are a few of the biggest:
Limited condo owners association loss assessment coverage
Depreciation applied to claim payments
Low coverage amount for your belongings
Limited coverage for your small valuables
Narrow coverage for for claims and lawsuits against you
Customize Your Policy
Youi can tailor our condominium unit owners policies with customized coverage amounts and endorsements. You can get coverage that meets your needs without being charged for coverage that doesn't.
Take the Risk Coach™ Approach
A 2022 survey found that 96% of survey respondents misunderstood at least one important feature of their insurance coverage. More than half misunderstood several. We want better than that for our clients. When you work with our Risk Coaches, you'll work with a licensed insurance professional who'll help you get the right coverage at the best price.
Call or Use Chat to Contact a Risk Coach
Use the chat feature on this page, or call us for a no-cost, no-obligation-to-buy, coverage needs assessment. Our Risk Coaches are glad to help you navigate the complex world of condominium unit coverage. Call us at 800.342.5342 Monday through Friday, from 8:00 a.m. to 8:00 p.m. ET.
Need More Than the Basics?
If you need more than the basic coverages and coverage amounts outlined above, check into our Premier Choice Condo (includes 13 more coverages and 18 higher coverage amounts) and Signature Choice Condo (best for high-value units) options.
These coverage packages include more coverages and higher coverage limits. Packages offer more advanced coverages at lower rates than adding them as separate endorsements. Either follow the links above or take a quick look at the handy coverage comparison chart in the sidebar on this page.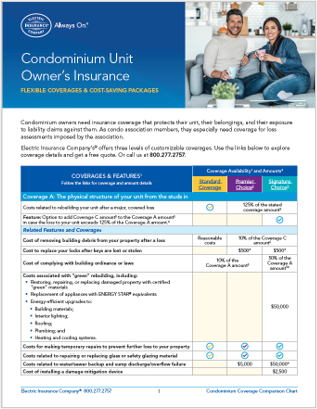 Condo values are at an all-time high. Make sure you protect your investment in yours with sound coverage. This easy-to-understand coverage chart (PDF 678kb) helps you know what to get and why.