Safe Driving Tips
You probably don't give it too much thought, but each time you get behind the steering wheel of your car, it could be the last and most dangerous thing you do. It requires focus, awareness, and good judgement each and every time. While you can't control the actions of other drivers, driving safely and defensively is entirely under your control.
Sadly, each year car accidents are the fifth leading cause of death in the U.S. Most of these accidents are avoidable and are caused by distracted drivers, speed, weather, or neglecting to keep the proper distance between vehicles. These practical tips will help keep you safe on the roads.
Focus, focus, and more focus. Put down the cell phone, stop playing with the radio, and focus on the task at hand. Over 15% of fatal crashed are caused by drivers that were distracted while driving.


Buckle it up. Simple fact: seat belts save lives. Make sure you and other passengers in your vehicle are always buckled.


Drive defensively. You don't have control of how other drivers are operating their vehicles, that's why you need to anticipate their mistakes.


Slow it down! We all tend to want to get to the next destination quickly. Be mindful of the speed limit, even though you may be traveling with the speed of traffic.


Keep the proper distance between your car and the one in front of you. Over 35% of accidents could be prevented with proper distance. You need to allow for lead time in braking, even more so when the weather is bad.


Pay attention to the signs. The best practice is to evaluate each situation. Don't race the yellow light, slow down before each intersection, and yield for other motorists. Always pay attention to turning signals of other cars.


Adjust for the weather. Don't believe the road when you can't see it. Always proceed cautiously when driving in bad weather. When roads are slick and wet, your braking and turning times increase.


Maintain your vehicle. Make sure your tires are inflated properly, headlights and turn signals are functioning, and you keep your vehicle maintained regularly. Surprise breakdowns on the road become very dangerous if your vehicle becomes disabled.


Don't drive impaired. Drunk, buzzed, or being high has no place behind the wheel. If you are under the influence, your reaction times, judgement, and sense of control are altered. Assess yourself honestly before deciding to drive. It could save your life and the lives of others in your car, or on the road.


Avoid the rage. Getting even with someone for driving poorly never has a good result. Road rage has become more common. Avoid situations that could cause you to get into an accident, or even killed. Let it go and alert the authorities to escalated events.
If you're a Great Driver, your rate should reflect that.
With our Great Driver™ app, you'll get actionable feedback on your driving habits, including customized driving tips to boost safety and efficiency. Get a new auto insurance policy with us and save just for enrolling!
Sign up for our Great Driver app program and get 10% off your auto insurance policy rate. Stick with it for 100 days and earn up to 20% off when you renew.
Earn a good score and you could save even more money when you renew your insurance policy – up to 20%.
Save on your insurance with good prevention
A Mature Driver Accident Prevention Course completion discount is available in many states. Drivers who complete a state-approved accident prevention course and meet age and driving history requirements may save up to 10% on their premiums.
Contact us
Our Risk Coaches are licensed insurance professionals who are trained to look at coverage from your perspective. They're glad to help you navigate the often-perplexing world of insurance coverage. Start a quote online, or call us at 800.342.5342 Monday through Friday, from 8:00 a.m. to 8:00 p.m. ET. Product, service, program, credit, and discount availability and limits vary by state.
Product, service, program, credit, and discount availability and limits vary by state. The information provided on this site is provided for informational purposes only and is not a full explanation of products, services, or coverage. For more information, please contact Electric Insurance Company at 800.227.2757. If there are discrepancies between the information on this site and the policy, the terms in the policy apply.
Electric Insurance Company Risk Coaches help you assess your current coverages and exposure to risk based on the information you provide during your discussion with them. The services provided are for informational purposes only and do not create a professional or fiduciary relationship. Incomplete information or a change in your circumstances after your meeting may affect coverage requirements or recommendations.
Share this: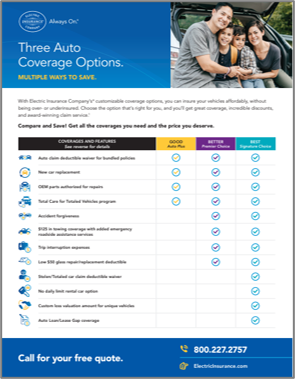 One size of auto coverage does not fit all. Get the right coverage for your needs with one of three flexible coverage options. This at-a-glance chart (.PDF, 1.5mg) shows you coverage highlights so you can make the right choice for you.