5 Tips for Shopping Online Safely
Online shopping is at an all-time high. According to a recent survey of U.S. consumers, 73% of Americans are shopping online more now than they did prior to the pandemic. That aligns with a Census Bureau report that found retail e-commerce sales in the second quarter of 2021 hit $222.5 billion, a 9.1% jump from a year ago.
On top of that, consumers are spending an average of five hours a week shopping online, a 2021 global survey found.
Who can blame us? Online shopping is convenient, fast, and offers a wider selection of products than you find in stores.
It's also relatively safe—provided you take the following safety precautions.
Look for the padlock. Shop at only reputable online retailers. Look for sites with a web address (URL) that begins with "shttp" or "https"—the "s" stands for secure, indicating the company uses encryption software to protect customers' personal data, such as their credit card information. When a retailer's site is encrypted, an icon of a locked padlock will appear, typically to the left of the URL in the address bar. In addition, look closely to make sure the business name is spelled correctly. Misspelled web addresses are a telltale sign of fraudulent websites.


Avoid paying with a debit card. Your payment method is important. It's better to make purchases online using a credit card, rather than a debit card, for a couple reasons. Most credit cards come with zero-fraud liability, meaning if someone does steal your credit card information and goes shopping, you won't be liable for a single cent of their purchases; debit cards don't offer the same protection. And, if you have your debit card information stolen, you've given digital thieves access to your underlying checking account, allowing them to potentially empty your bank funds before your bank notices the fraudulent transactions. If that happens, it can take weeks to get any stolen money reimbursed while the theft is being investigated.


Use a secure WiFi network. Shopping while you're on public WiFi can be risky. Because public networks aren't secured, information that you enter on a public network can be intercepted by hackers. So, only make purchases while using your home WiFi—or while using a virtual private network (VPN) if you're on the go.


Lock down your login. The best way to fortify your online accounts is to create long and unique passcodes. Consider using a password manager, a program that will create and keep track of randomly generated passwords for all your accounts. Also, use two-factor authentication whenever possible—this will make it harder for hackers to access your account, even if they get their hands on your passcode.


Beware of phishing scams. Phishing is when a scammer sends you an email to try to trick you into giving them your personal information. For example, you receive a suspicious email telling you that you've won a contest, but the message has a fraudulent link that, if you click it, gives hackers unrestricted access to your computer.  

Unfortunately, phishing attacks have soared during the pandemic. Spotting a phishing email can be challenging, though. Misspellings, grammatical errors, and generic greetings such as "Dear Sir" are indications that an email may be fake, but the best way to avoid a phishing scam is to contact the business directly if you're not sure whether an email is legitimate. Keep your guard up Online shopping can be safe (and fun!) if you stay vigilant and continue to take steps to protect yourself from fraudsters.
Contact Us
Our Risk Coaches are licensed insurance professionals who are trained to look at coverage from your perspective. They're glad to help you navigate the often-perplexing world of insurance coverage. Contact your local Risk Coach™ professional or call us at  800.342.5342.
The information provided on this site is provided for informational purposes only and is not a full explanation of products, services, or coverage. For more information, please contact Electric Insurance Company at 800.227.2757. If there are discrepancies between the information on this site and the policy, the terms in the policy apply.
Electric Insurance Company Risk Coaches help you assess your current coverages and exposure to risk based on the information you provide during your discussion. The services provided are for informational purposes only and do not create a professional or fiduciary relationship. Incomplete information or a change in your circumstances after your meeting may affect coverage requirements or recommendations.
Identity Fraud Coverage & Restoration Services
Our Premier Choice Home and Premier Choice Condo coverages include coverage up to $25,000 for identity theft issues and provide expert identity restoration services until the issue is resolved.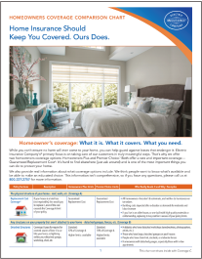 Home values are at an all-time high. Make sure you protect your investment in your home with sound coverage. This easy-to-understand coverage chart (PDF 2,600kb) helps you know what to get and why.