Tips for a Safe Thanksgiving Holiday
This Thanksgiving is shaping up to be a busy one. After two years of travel restrictions and Covid-19 transmission concerns, many Americans are planning to spend the holiday with family and friends this year, with some traveling across the country to reunite with loved ones.
That's the good news. The bad news? While the holiday is a staple of American life, Thanksgiving can present safety issues related to travel, food handling, intoxicated guests, and other matters.
Here are steps you can take to stay safe this Thanksgiving.
Prepare a turkey safely. Planning to serve a bird at this year's Thanksgiving meal? Proper storage, handling, and cooking is a must. Following these steps to safely store, thaw, handle, and cook your turkey can help prevent you and your family from getting sick:
Store frozen turkey at the right temperature. Frozen raw turkey should be stored in a freezer at 0˚F or below until you're ready to thaw it.
Thaw turkey safely. One of the easiest ways to thaw a turkey is in a refrigerator. Keep the bird in its original wrapping, to prevent its juices from spilling out, and allow roughly 24 hours of thawing for each 4 to 5 pounds of turkey. You can also thaw a turkey by submerging it in a container full of cold water, changing the water every 30 minutes until the turkey is completely thawed.
Handle turkey correctly. To prevent the spread of germs, wash your hands with soap and water for at least 20 seconds before and after handling turkey. Also, use a separate cutting board when cutting raw turkey. And despite what you may have heard, do not wash or rinse raw turkey—it can spread bacteria all over your kitchen.
Cook turkey thoroughly. Turkey can be contaminated with germs, such as salmonella, that can make you and your guests sick if it's not cooked properly. To roast a turkey in an oven, set the oven temperature to at least 325°F; cooking times can vary depending on the weight of the bird and whether it's stuffed. Before removing it from the oven, use a food thermometer to make sure the turkey has reached a minimum cooking temperature of 165°F.
If you're preparing turkey a different way, such as grilling, smoking, or deep frying it, follow the U.S. Department of Agriculture's guidelines for alternative cooking methods.
Refrigerate leftovers within 2 hours of being left at room temperature. This will help prevent food poisoning when you crack open the container of leftovers for a late-night snack. Your fridge's temperature must be set at 40°F or colder.
Prevent kitchen fires. Thanksgiving is the peak day of the year for home cooking fires. To keep you and your family safe, stay in the kitchen while you're cooking food on a stovetop, stay in your home while a turkey is cooking, and keep children away from the stove and oven. And make sure your smoke detectors are working before the holiday.
Drive safely. Thanksgiving Eve has been dubbed "Blackout Wednesday," "Drinksgiving" and "Whiskey Wednesday" since it's one of the worst days of the year for alcohol-impaired car accidents and deaths. A lot of drunk drivers are also on the road during Thanksgiving day. When you're behind the wheel keep your eyes on the road, buckle up, and don't drink and drive.
Get guests home safely. Serving alcohol at an event at your home, such as Thanksgiving dinner, can expose you to all sorts of liability, especially if an intoxicated guest is harmed, harms others, or gets into a car accident on their drive home. Therefore, eliminate potential hazards in your home (e.g., certain holiday decorations can cause guests to trip and fall), make sure minors don't have access to alcohol, and have a plan for getting inebriated guests home safely, such as calling a ride-share service or a taxi to drive them home.
Traveling? Protect your home from break-ins. Thieves come out in full force during the holidays. If you're traveling this Thanksgiving, you can protect your home and deter break-ins by doing the following:
Don't post your travel plans on social media. Also don't post photos from your trip until you return home. Burglars often use Facebook, Twitter, and other social media to target vacant homes.
Put house lights on a timer. This will make criminals think that you're home when you're away. Also, consider setting up motion detector lights outside your home to scare crooks away.
Put your mail delivery on hold. Place a delivery hold with USPS so that mail doesn't pile up on your doorstep while you're away.
Amp up your auto insurance coverage. Now is the time to upgrade your Electric Insurance auto policy to include trip interruption and accident forgiveness (see sidebar). Make sure your coverage is in place before Thanksgiving.
Take the Risk Coach™ Approach
A 2022 survey found that 96% of survey respondents misunderstood at least one important feature of their coverage. More than half misunderstood several. We want better than that for our clients. When you work with our Risk Coaches, you'll work with a licensed insurance professional who'll help you get the right coverage at the best price.
Call or use Chat to Contact a Risk Coach
Use the chat feature on this page, or call us for a no-cost, no-obligation-to-buy, coverage needs assessment. Our Risk Coaches are glad to help you navigate your auto coverage. Call us at 800.342.5342 Monday through Friday, from 8:00 a.m. to 8:00 p.m. ET.
Product, service, program, credit, and discount availability and limits vary by state. The information provided on this site is provided for informational purposes only and is not a full explanation of products, services, or coverage. For more information, please contact Electric Insurance Company at 800.227.2757. If there are discrepancies between the information on this site and the policy, the terms in the policy apply.
Electric Insurance Company Risk Coaches help you assess your current coverages and exposure to risk based on the information you provide during your discussion. The services provided are for informational purposes only and do not create a professional or fiduciary relationship. Incomplete information or a change in your circumstances after your meeting may affect coverage requirements or recommendations.
Share this:
Hitting the Road Over the Holidays?
What to know about accident forgiveness and trip interruption insurance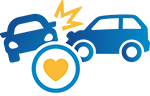 Getting into a car accident can result in an accident surcharge—a hefty fine that can drive your car insurance premiums up by as much as 60%.
Don't want to take that financial hit? Consider upgrading to Electric Insurance's Premier Choice or Signature Choice auto coverage.
Both offer accident forgiveness, meaning if you're found to be at fault in a car accident, we'll waive up to $500 of your policy deductible and any at-fault surcharge.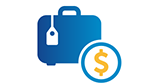 Both plans also provide trip interruption insurance—coverage where if your car breaks down and cannot be driven safely for more than 24 hours while you're 100 or more miles away from home, Electric Insurance will pay up to $600 for meals and overnight lodging.